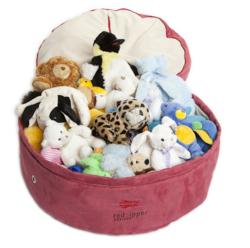 These are great for our tiny Brooklyn apartment. We have two of them, one with a bunch of old notebooks and folders, and the other we keep all our winter clothes in. Even the one with books is still really comfy to sit on, you'd never know what was inside
New York, NY (PRWEB) September 01, 2012
When space to put your things seems to be an ever-dwindling resource, Red Zipper Designs has created a solution that is as elegant as it is comfortable.The brainchild of two enterprising, if not frustrated mothers, "The Pouffe" is the obvious solution to reducing clutter.
"One day, Amber came to my house when it was a total mess," says Andrea Soto, who co-founded Red Zipper Designs with Amber Goldman. "My kids were jumping around on some beanbags I had and Amber said, 'What if we could just throw all this clutter into the beanbags?'"
For this "aha!" moment to become a reality, the design process had to focus on three goals: functionality, aesthetics, and comfort.
The Pouffe's sophisticated design can hold 5,650 cubic inches of storage. In other words, you can fit:
1 Large Down Jacket
1 Pair of Ski Pants
3 Scarves
2 Pair of Gloves
4 Hats
1 King Pillow
1 twin size blanket
1 set queen sheets
4 large towels
5 stuffed toys
All in one Pouffe-- and there's still room for more.
You can literally fit the kitchen sink inside one Pouffe (although not recommended). That's a lot of space!
Red Zipper has made The Pouffe out of soft, yet durable micro-suede fabric, and strong high-quality stitching. It is completely washable and comes in four colors: Blueberry, Chocolate, Coffee, and Raspberry.
The Pouffe can be used to store just about anything. It can store stuffed animals, toys, quilts, pillows and seasonal clothing, making it perfect for a child's playroom. It can also store rigid books and folders without any trace of discomfort when lounging on it, which makes Red Zipper's Pouffe a college dorm room essential!
The Pouffe is available for purchase direct from Red Zipper Designs' website, and exclusively for Labor Day Weekend, you can save yourself from clutter for 40% off the normal price!