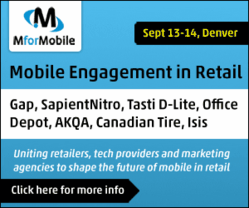 Despite the loss of strategic advantage to Amazon and e-tailers retailers may wait until there are solutions out there that leverage their existing reward and loyalty platforms, without doing a complete reset
Denver, CO (PRWEB) September 05, 2012
During the course of the two days, key speakers from big players within the mobile and retail industry will explore how the mobile device could be utilised to drive footfall, engage consumers and align technologies to retailer objectives.
Speakers such as Rachel Davis from Office Depot, BJ Emerson from Tasti D-Lite, Ed Busby from Isis, Mohammed Khan from Vivotech and Steve Horowitz from Coupons Inc will be sharing their knowledge and expertise on the loyalty, couponing and rewards segment.
These speakers will focus on topics such as; reconciling mobile strategies with in-store mechanics, analysing loyalty data and tracking consumers based on mobile interactions. They'll also examine the role of NFC, Location Based Services, fostering loyalty and ultimately rewarding customers at the point of sale.
With so much of the event focused on engagement and loyalty and with over 25 speakers contributing to the debate, Mobile Engagement in Retail promises to best place this year to find out how retailers and tech providers are working together to engage with consumers, foster loyalty and drive sales in the long term.
Cherian Abraham said "I think there is a big question unanswered as to what retailer expectations are from both issuing banks and carriers vs what everyone thinks what retailers want. Despite the loss of strategic advantage to Amazon and e-tailers retailers may wait until there are solutions out there that leverage their existing reward and loyalty platforms, without doing a complete reset"
To register for this event click here: http://bit.ly/Q2GNak
Helen Raff
General Manager
M for Mobile
Tel: +44 (0) 207 375 7582 - UK
Toll Free: +1 800 814 3459 ext. 7582
helen(at)mformobile(dot)com
M for Mobile publishes news and events for those involved in the mobile industry, primarily mobile technology. Through high-end B2B conferences, we connect people across the industry, provide market leading intelligence and enable companies to capitalise on emerging business opportunities in location-based services, tracking, NFC, mobile advertising and mobile payments and much more.