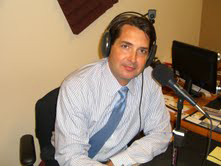 Without our small business owners, we'll never get out of the rut we're in with our economy.
Atlanta, GA (PRWEB) September 05, 2012
On August 30, 2012, co-hosts Stone Payton and Lee Kantor of Business RadioX™'s Atlanta Business Radio welcomed Sean Mabey with Wells Fargo to gain insight into the current outlook of small business owners across the country, based on the recent Gallup poll conducted by Wells Fargo.
Sean Mabey is Senior Vice President and the Director of Small Business Strategy for Wells Fargo in Atlanta and across Georgia, Mississippi, and Tennessee. He helps lead a team of hundreds of trained small business bankers based in almost every Wells Fargo banking store in the Atlanta area. A banker with the company for 14 years, Mabey has spent the last seven years in Atlanta. His previous position was Community Bank President in the North Atlanta metro area.
Based on the recent Gallup poll, Wells Fargo sees that the outlook for small businesses is positive by cautionary. Business owners are still looking for how to operate in the "new normal". According to Mabey, "Without our small business owners, we'll never get out of the rut we're in with our economy."
In Atlanta, the small business owner can take advantage of events that Wells Fargo partners with the Metro Atlanta Chamber of Commerce to host, providing education and resources as well as loans. Although Wells Fargo is a "big national bank", it strives to serve small businesses, or as Mabey says, "We out-local the nationals and out-national the locals."
To hear more about the small business climate in Atlanta, please visit Atlanta Business Radio.
About Atlanta Business Radio:
Each week, from the Business RadioX™ studio in Sandy Springs, Lee Kantor and Stone Payton interview Atlanta, Georgia's top businessmen and businesswomen to learn what makes them the best at what they do.
About Business RadioX™:
Business RadioX™ provides a turnkey solution for business owners who want to leverage the power of internet radio to meet their best prospects, establish credibility for their organization and heighten the placement of their brand in search engines rankings. With a professional venue and a proven formula, Business RadioX™ helps hosts podcast their shows and create a regular stream of dynamic content to share with their prospects and feed the search engines every week. Programs are recorded and streamed live to the internet from our corporate offices in suburban Atlanta. For more information or to hear a live show, visit: http://www.businessradiox.com.