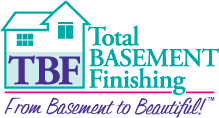 Taunton, MA (PRWEB) September 02, 2012
Dry Zone Basement Systems proudly announces the grand opening of its new Total Basement Finishing showroom. It's now ready for customers to get a firsthand look at the spectacular results of a basement transformation.
The Total Basement Finishing crew, all in-house contractors, recently built the new room which showcases the many aspects of the Total Basement Finishing system including walls, floors, stairs, and ceiling options, as well as a sump pump system installed in the basement's utility room.
Customers Can See for Themselves
Getting a close-up look at the new showroom is easy. Customers can visit the space in person with their Basement Finishing Specialist to see how the system and products transform a basement into a beautiful living space. At the same time, customers will learn about the Total Basement Finishing process which includes a re-visit with the project manager, basement finishing specialist, and homeowner before installation to review materials and fine details.
Located in New Bedford, the showroom was built in the basement of owner Todd Lutinski's home, offering a real-life experience for visiting customers.
TBF Products Are On Display
The Total Basement Finishing system offers an enormous variety for customization. Some of the products on display in the new showroom include:
EverLast wall panels with crown molding
Finished linen ceiling
ThermalDry floor, tile, and carpet
Decorative post covers
Custom built oak stairs and railing
Custom bathroom with pocket door.
Total Basement Finishing Is Unique
The Total Basement Finishing system has been researched and designed by engineering experts in basement waterproofing and finishing so that all products meet mold and moisture resistant requirements. Unlike other basement remodeling where the same moisture prone materials used elsewhere in the house are used in the basement, Total Basement Finishing uses only their innovative products ensuring a dry, comfortable living space.
In addition to basement finishing, Dry Zone Basement Systems provides basement waterproofing, crawl space repair, sump pump systems, and foundation repair for residential and commercial work. They are members of Basement Systems Inc., a national network of leading professionals in the industry. Dry Zone serves customers in southern Massachusetts and all of Rhode Island.