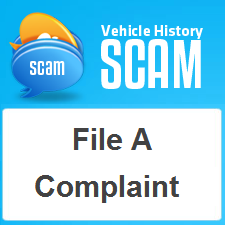 Customers are asked to please comment on the new VehicleHistory.com review websites and Reseller Ratings.
Denver, CO (PRWEB) September 03, 2012
With a large need for consumers to have an easy way to review their website and services, VehicleHistory.com has created two additional review websites. The websites provide and easy way for vehicle history report clients to leave their feedback and share their honest opinions.
The first site, VehicleHistoryReviews.com, was created as a simple way to leave positive or negative feedback about the company. The easy platform lets clients "write a review" with the simple click of their mouse and write whatever they need to about their experience with VehicleHistory.com.
One customer, Kirk R., commented on VehicleHistoryReviews.com: "We are looking for a dependable car for our growing family. We have a toddler and now expecting twins, so getting this information before hand helps us to feel better about our purchase and know we are getting the right price and a good deal. In a way it does help keep car dealers regulated in their sales."
The other VehicleHistory.com review website is available for customers to leave their monetary damage reports. VehicleHistoryScam.com lets consumers "submit a complaint" and leave their dollar amount lost or "scammed" by the company. With this review tool, VehicleHistory.com looks to provide 100% customer satisfaction by resolving all client problems.
VehicleHistory.com reviews have been cropping up all over the Internet, so the company thought they should provide their own legitimate outlets. Another way to review the vehicle history report website is the Reseller Ratings website. This site provides an opportunity to review VehicleHistory.com in a community setting, with other "consumer verified online stores." To review the company on Reseller Reviews visit: http://www.resellerratings.com/store/VehicleHistory_6
Customers are asked to please comment on the new VehicleHistory.com review websites and Reseller Ratings. The company takes great pride in reviewing all feedback and resolving all issues. If need be, clients are also welcome to email Customer Service Manager Josh F. at josh(at)vehiclehistory(dot)com as well.
About VehicleHistory.com:
VehicleHistory.com provides online vehicle history reports for used car buyers and sellers in North America. VehicleHistory.com is most reliable way for customers to get background material about the cars they are interested in purchasing with one of the largest databases of used car information in the U.S. and Canada. Up to now, VehicleHistory.com has over 1.6 million vehicle history reports purchased from their online database. Contact VehicleHistory.com customer service 24/7 through live chat or by calling, toll free, 1 (855) 395-6395.