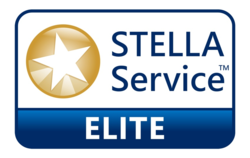 "We look forward to working hard to maintain our excellent service reputation with our customers and with STELLA to continue to showcase the award." - GNC Chief Marketing Officer Jeff Hennion
New York (PRWEB) September 04, 2012
For nearly 80 years, GNC has remained true to its mission of helping customers "Live Well." This mission extends beyond the products it sells, ensuring the statement manifests itself during every customer interaction. In a recent test of spreading that message of great service through the STELLAService seal, GNC's online store experienced a meaningful lift in conversions and a decrease in cart abandonment.
STELLAService put GNC's service to the test. Mystery shoppers from the STELLAService team tested the company across 300 customer service-related metrics. Every shopper touch point was evaluated, from the average time of an email response to the ease of returns. From these tests, STELLAService gained a detailed understanding of GNC's service performance and the company was awarded the STELLAService EXCELLENT seal to display on site.
GNC then tested the performance of the seal using Monetate, a provider of cloud-based technology that allows online marketers to run dozens of concurrent A/B and multivariate tests.
Jeff Hennion, GNC's Chief Marketing Officer, liked the mission of the seal program from the start. "Being purveyors of health and nutrition goods, we certainly understand how important it is to have the trust of our consumers. Just as consumers trust that we sell effective, high quality products, we want them to understand that our service is nothing short of excellent. STELLAService's program seemed to be consistent with the message we wanted to deliver, so the only question left was whether or not the seal would deliver."
Monetate worked with GNC to develop and manage an A/B test of the STELLAService seal. The seal, strategically placed on the checkout page of GNC.com, drove an increase in conversions of nearly half a percent, as well as nearly half a percent decrease in cart abandonment. These results highlighted the fact that customers respond to service claims even during the final stages of their transactions.
"The fact that customers are still influenced in their purchasing decisions at such a late stage in the buying experience indicates how powerful STELLAService's message is to those customers," said Chris Dargis, GNC's Vice President of eCommerce.
The results of the A/B test were so influential, the eCommerce team made the decision to add the STELLAService seal on the checkout page permanently.
"Seeing the effects of the seal so quickly certainly impressed us," Mr. Hennion said. "We look forward to working hard to maintain our excellent service reputation with our customers and with STELLA to continue to showcase the award."
About STELLAService
Dedicated to helping consumers make more informed online shopping decisions, STELLAService is the only independent provider of customer service ratings for online retailers. The company leverages a nationwide network of full-time mystery shoppers to evaluate each site undercover, ensuring findings that are unbiased and true to the shopping experience. STELLAService evaluates thousands of retailers each year using more than 350 metrics, from the quality of live customer support to the speed of refunds.
STELLAService data has been featured in outlets such as CNN, Time, NPR, The Wall Street Journal and more. Based in New York City, the company also publishes reports and other research to help companies worldwide improve their service operations. For more information, visit http://www.STELLAService.com. Follow us on Twitter at @STELLAService. Like us on Facebook at http://www.facebook.com/STELLAService
About GNC
GNC Holdings, Inc., headquartered in Pittsburgh, Pa., is a leading global specialty retailer of health and wellness products, including vitamins, minerals and herbal supplement products, sports nutrition products and diet products, and trades on the New York Stock Exchange under the symbol "GNC." As of June 30, 2012, GNC has more than 7,800 locations, of which more than 6,000 retail locations are in the United States (including 928 franchise and 2,146 Rite Aid franchise store-within-a-store locations) and franchise operations in 56 countries (including distribution centers where retail sales are made). The Company – which is dedicated to helping consumers Live Well – has a diversified, multi-channel business model and derives revenue from product sales through company-owned retail stores, domestic and international franchise activities, third party contract manufacturing, e-commerce and corporate partnerships. The Company's broad and deep product mix, which is focused on high-margin, premium, value-added nutritional products, is sold under GNC proprietary brands, including Mega Men®, Ultra Mega®, GNC Total Lean, Pro Performance® and Pro Performance® AMP, and under nationally recognized third party brands.
About Monetate
Monetate drives billions of dollars of revenue every year for some of the best-known brands in the world, including Best Buy, QVC, Comcast Aeropostale, The Sports Authority, and PETCO. The company's comprehensive product suite and conversion expertise enable marketers to deliver a more relevant customer experience with unprecedented agility. Leading marketers rely on Monetate's cloud-based browser technology to achieve a new level of speed and control, allowing them to run 16 times more optimization campaigns compared to industry averages. The Monetate Agility Suite includes advanced products for testing, merchandising, targeting, and cross-channel consistency, providing an opportunity to bypass IT restraints and react in real time to customer demands. Monetate also helps marketers implement best practices and drive online revenue through its expert strategic services and content publishing teams. For more information visit http://monetate.com/ or follow us on Twitter @Monetate.