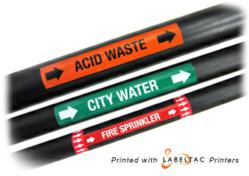 "The free pipe marking guide I received from Creative Safety Supply helped with the process of choosing correct labels and gave me assurance I was complying with OSHA standards."
Lake Oswego, OR (PRWEB) September 07, 2012
Labeling pipes within industrial, manufacturing and office workplaces is crucial to maintain a safe environment for the company, employees and visitors. The pipe marking guide offered free through Creative Safety Supply provides a chart that will ensure your business is complying with OSHA and ANSI standards. A pipe label effectively communicates the contents of that pipe and it is important to all safety programs, including 5s. Creative Safety Supply makes it easy to label pipes by using the correct color, size and placement by offering the pipe marking guide to help a business through the process.
Pipe labels can be used for marking all types of pipes from city water to oxygen to high pressure gas. The labels are made out of a durable, tough vinyl that can withstand any harsh environment and is also water, chemical and UV-Resistant. They are rated to hold up to 5-7 years outdoors. The labels can uphold to temperatures ranging from -25 to 210 degrees. It is critical to keep employees and contractors informed of what pipe is what. The labels can inform if the liquid is acid or just city water. Creative Safety Supply #1 seller is the "City Water" label. The pre-made label is easy to use by the peel-stick and apply feature. The labels are available with left-facing arrow, right-facing arrows, or no arrow configuration. Custom pipe marking labels are also available through Creative Safety Supply.
A good business that is productive and profitable is also maintaining a safe environment through complying with safety standards. Proper labeling of pipes is a key element to communicate and inform of potential hazards. Tom Murphy, maintenance engineer, commented, "The free pipe marking guide I received from Creative Safety Supply helped with the process of choosing correct labels and gave me assurance I was complying with OSHA standards."
For more information on pipe labels and to receive a free pipe marking guide, contact http://www.creativesafetysupply.com/ or call toll-free (866)777-1360.