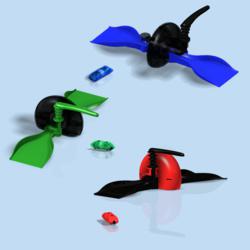 What is this thing and what does it do?
Maumee, OH (PRWEB) September 01, 2012
With the Kickstarter (Kickstarter.com) web-funding concept's mounting success these past couple years, so too comes with it an inundation of new projects daily that tend to quickly bury anything as ancient as a week old. By simply searching through the recently launched section to two days prior, one finds his or herself quickly tending to lose interest in the search when page after page still dredges up projects launched just hours before. But Kickstarter's project launch-tsunami has not prevented one Northwest Ohio startup toy company from perpetuating faith in the funding model, having also "kickstarted" their "Zeta Launcher" technology last week.
Kickstarter's platform aside, it is truly innovative and novel technologies like the "Zeta Launcher" that most often meet the public between extreme highs and lows, anywhere from "Wow! This is Great!" by one fan at Pebblebrook Toys' Facebook page, to "Don't mean to burst your bubble, but…" by another. But it is this next post in their Timeline that may be exactly what gives new technologies its legs, whether or not their project gets buried alive early on and especially if it represents popular-opinion curiosity in the product, "what is this thing and what does it do?"
First looking at the "Zeta Launcher", it might be difficult to guess what its functionality should be, or why might its design appear so unusual? But its straight forward functionality, to launch a toy car, may not alone be too different from something Hot Wheels might market with a spring or motor. It is only after upon examining it firsthand that the question most immediately becomes raised, exactly how is it launching again and why doesn't it need any batteries or electricity? And yet, upon even closer examination, the far more important question arises, and how exactly is it being "vacuumed" into the launcher, auto-adjusting and auto-locking itself to perfectly line up for re-launch?
Pebblebrook Toys' small team of inventors, designers and accomplished businessmen has last week introduced the global market to a list of firsts through Kickstarter: a new form of propulsion, a newly discovered property of permanent magnets and perhaps a new bar is raised in the toy launcher isle at the toy stores, which may sound more like a list of scientific impossibilities than anything else. But these possibilities are indeed a collective reality, as the kids who enjoy launching it will attest. With a daily-growing 5000+ Facebook fans and nearly $4,000 in individual "backers" their first five days (without any preliminary advertisement or promotion whatsoever), Pebblebrook Toys is doing whatever it can now to see to it that technology enthusiasts know how and where to find their hidden needle somewhere in the week-old top half of the Kickstarter expanding haystack.