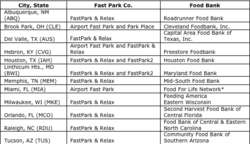 In 2011, Fast Park collected over 3,404 pounds of food to distribute to hungry families. Fast Park hopes to exceed that amount this year.
Cincinnati, OH (PRWEB) September 02, 2012
The Fast Park family of off-site airport parking companies, with 16 facilities in 12 markets, launches its 5th annual Canned Food Drive from September 3rd through the 27th in support of National Hunger Action Month. Market specific collections will benefit local food bank members of Feeding America, the largest food bank network in the country. In addition to collecting food, Fast Park will donate one dollar for every pound of non-perishable food donated by customers.
Food banks across the country are struggling to keep up with demand this year. According to Feeding America, 1 out of 6 people are struggling with hunger. In 2011, Fast Park collected over 3,404 pounds of food to distribute to hungry families. In addition, Fast Park also donated one dollar for every pound of food collected locally, to aid in Feeding America's mission to end hunger.
"As a company we are always seeking ways to give back to causes in which we believe," said Melanie Chavez who oversees construction and branding for Fast Park. "Hunger is an epidemic in our communities, and we believe every donation makes a difference. The annual Canned Food Drive brings our employees and customers together to work toward a common goal. Every year I am impressed with the generosity of our customers."
To learn more about how you can help and to watch a video visit http://hungeractionmonth.org/.
About Us
The Fast Park family of airport parking solutions is headquartered in Cincinnati, Ohio. There are 16 Fast Park facilities in 12 markets throughout the country. Fast Park brands include FastPark & Relax, Airport Fast Park, FastPark2 and Park Place. Fast Park companies provide customer service focused, airport parking, 24 hours per day, seven days per week, with instant shuttle service transporting travelers from their parking spot to their terminal. Facilities are located in Albuquerque, New Mexico; Austin, Texas; Baltimore, Maryland; Cincinnati, Ohio; Cleveland, Ohio; Houston, Texas; Memphis, Tennessee; Miami, Florida; Milwaukee, Wisconsin; Orlando, Florida; Raleigh, North Carolina; and Tucson, Arizona. For more information visit thefastpark.com.
*This food bank is outside the Feeding America Network. All Miami donations will benefit the Food for Life Network, which aids to eliminate malnutrition and starvation in men, women and children living with HIV/AIDS in South Florida, specifically Miami Dade and Broward counties.