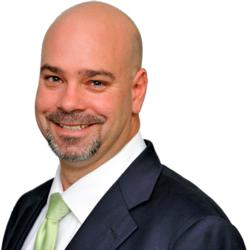 'Waterfront is totally different than every other company. Every other company, you're an individual agent. Here, it's like a partnership. It's the ideal situation.'
JUPITER, Fla. (PRWEB) September 02, 2012
Erik Pariseleti is Waterfront Properties and Club Communities' Tequesta sales specialist, listing homes from the $200,000s to $1 million. The experienced Realtor quadrupled the number of listings he sold in the year ending June 30, compared with the same period in 2011, and has several listings under contract.
Pariseleti sold his first home at the age of 8. The young boy's commission: a brand-new bicycle. He never lost his childhood knack, and now he shares it with the 1,500-plus members of the Jupiter-Tequesta-Hobe Sound Association of Realtors. For five years, he has served on the board and as a committee liaison.
Pariseleti also was selected as the association's state director, and when he's not showing homes for sale in Heritage Oaks or property in Rolling Hills, he travels to conferences to learn about legislative issues impacting the real-estate industry and attends three association meetings every month.
"The biggest thing is educating our membership," he said. "Seeing how more of the back side of the business of real estate works has definitely helped me."
The western Massachusetts native obtained his first Realtor's license in the Bay State and sold mostly farms and parcels of land. Real-estate deals in the rural region were slow-going, so he embarked on an adventurous career as a logger and a cattle rancher.
One wintry day 10 years ago, he had an epiphany when he found himself walking through two feet of snow with a chainsaw on his shoulder in the brutal cold. Jupiter became his new home.
Pariseleti quickly qualified for his Florida Realtor's license and worked for a handful of large real-estate firms before joining Waterfront Properties.
"Waterfront is totally different than every other company," he said. "Every other company, you're an individual agent. Here, it's like a partnership. It's the ideal situation."
The husband and father of twin girls, whose wife Michelle also works at Waterfront Properties, said he can't imagine going back to a traditional firm. One of the reasons is the boutique company's international marketing efforts.
Waterfront Properties is a founding member of Mayfair International Realty, a global online network of luxury real-estate brokers and agents. That paid off for Pariseleti in 2011, when Mayfair landed him a buyer from Sweden who purchased one of the homes for sale in Tequesta.
"We don't have to worry about any of the marketing," he said. "Waterfront takes care of all of it. Everything we do is focused on our market. It's good for the seller. You're getting an expert."
Pariseleti proved his expertise 35 years ago, when he was sweeping up job sites after school for his father, a custom-home builder. A couple walked by one of the sites and asked him whether the house was for sale.
"This house was the same as the one we were living in at the time," Pariseleti said. "I knew every nook and cranny."
He gave them an on-the-spot tour. After the couple bought the place, the owner was so impressed he designed a special T-shirt for the fated Realtor. It read, "No. 1 Salesman."
"Little did I know the Realtor was making money out of it," Pariseleti said. "I did get a bike out of it, though."
For information about Tequesta real estate, call Pariseleti at 561-746-7272.