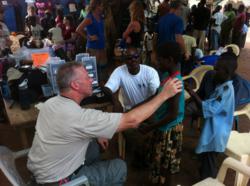 45 million Americans have at least one tattoo and 17% of them regret it. Laser tattoo removal is a great option for them.
David Vanderpool, MD CEO LAVE MD
Nashville ,Tennessee (PRWEB) September 04, 2012
Nashville, TN based LAVE MD, a leader in laser tattoo removal services, is expanding its ability to provide next generation laser tattoo removal to include all of Middle Tennessee, southern Kentucky and northern Alabama. A recent report by the FDA suggests that 45 million Americans have at least one tattoo and a Harris poll recently posited that 17% of them regretted the decision.
LAVE MD has been a leader in laser tattoo removal for ten years and has seen more and more patients come in for tattoo removal. With its recent expansion and latest laser upgrades, LAVE MD Laser Tattoo Removal will be in an excellent position for those desiring tattoo removal.
LAVE MD was begun in 2003 as a social entrepreneurial company in order to provide funding for the non-profit, Mobile Medical Disaster Relief.