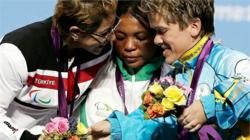 I'm very, very happy. I have made my country proud.
(PRWEB) September 01, 2012
Nigeria have won their second Paralympic gold medal in Powerlifting at ExCeL.
The women's 44kg Powerlifting gold medal was won by Nigeria's Ivory Nwokorie who lifted an incredible 109kg at the South Arena 3 at ExCel. She was delighted with her win: 'I'm very, very happy. I have made my country proud.' Despite failing to improve on her first lift, it was to be more than enough to win her the gold, Nigeria's second for Powerlifting in two days.
The silver medal went to Cigdem Dede of Turkey who managed 105kg on her second lift but was slightly disappointed with her placing: 'It would have been better to have won the gold medal but I am very happy to have won the silver.'
Ukraine took the bronze medal with Lydiia Soloviova lifting 100kg on the first lift.
Proving that mental preparation is almost as important as physical training, Mexico's Laura Gabriel Cerero failed all three attempts, a repeat of the problem she encountered in the Athens Paralympics.
'I don't know what happened. I trained really hard, but I do not think I put in enough mental training. After the first lift I had a mental block. It happened to me before in Athens but I overcame it then exploded. This time I got blocked and could not go any further. I am going to carry on training and correct my mistakes.'
For further information please contact the London 2012 Press Office.