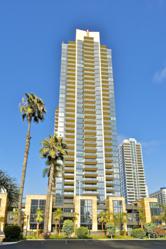 Bayside exceeded our expectations in terms of quality and the resort-like amenities.
San Diego, CA (PRWEB) September 04, 2012
The Scott~Finn team of Windermere Signature Properties in downtown San Diego have listed a stunning penthouse on the 34th floor of Bayside by Bosa. This residence is the final, new construction residence out of the original eight penthouse suites. Bayside is located in downtown San Diego in the Columbia District which overlooks the San Diego Bay. It is a 36 story tower with 232 living units completed in 2009.
The 34th floor suite is over 3100 square feet. All the finish work is top of the line quality with Viking and Miele appliances, Caesar stone counters, Carrerra marble, Italian cabinetry by Snaidera. The Master Suite is comprised of a bedroom with adjoining sitting room, large walk-in closet with organizers, bathroom with Carrerra marble and a private balcony. The view orientation offers east, north and west views and encompasses views of the airport, city lights, distant mountains to the east and expansive waterviews to the north and west.
Bosa Development of Vancouver, B.C. is San Diego's most prolific developer in the downtown market. They have completed eight towers since 2001 and have five more parcels to develop in several prime downtown locations. According to Eric Martin, Vice-President of Development for Bosa, it will take seven to ten years to complete construction on those five parcels.- Bayside was the last, new product downtown. A tower of this size takes 3 to 4 years to finish once construction has begun. San Diego will not have a new tower until at least 2015 or 2016. This means Bayside will be the newest tower for at least 3 more years.
Scott and Finn are very enthusiastic about this opportunity to represent this penthouse residence. In addition to launching the marketing campaign, they are extending invitations for showings day or night to agents and to the public. "Not every agent will make this commitment - but, for a property like this one, we think it is essential." said Scott. "Any penthouse, or any home for that matter, is an important investment and we encourage clients to return at night before making a final decision to purchase. It gives the Buyers a better sense of how the home will "feel" when you live in it." added Finn. To learn more about the Bayside penthouse, please contact: Raye Scott 858.229.5424 or Francine Finn 858.518.5288. Or, visit our website: http://www.ScottFinnHomes.com or blog: http://www.BroadcastSanDiego.com Be sure to like us on Facebook and Twitter! Scott-Finn Homes & @scottfinnhomes
Windermere Signature Properties was founded in June 2010 by Raye Scott and Francine Finn. It is located in downtown San Diego in the Marina District. As a franchise of the Seattle- based company, they are committed to creating an agency of professional realtors who are dedicated to excellent client service and providing them with the tools they need to achieve their goals. Please visit http://www.WindermereSP.com or contact Raye: 858.229.5424 or Raye(at)scottfinnhomes(dot)com or Francine: 858.518.5288 or Francine(at)scottfinnhomes(dot)com