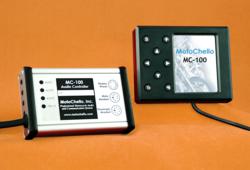 "Exceptional, sound quality was better than anything experienced before through countless sound systems. Volume was excellent and sound quality was clear and crisp." – A. Paul
Gardnerville, NV (PRWEB) September 02, 2012
MotoChello, Inc. announced the MC-100, a new fully integrated motorcycle stereo and communication system for motorcycles and ATVs. The MC-100 has similar functions as car stereos while adding features unique to riding.
The system has a built-in FM /weather band radio with preset and channel search functions and a dedicated port to connect an FRS two-way radio. Audio ports connect up to three additional devices simultaneously, such as an MP3 player, motorcycle GPS unit, XM radio, CD player or radar detector. Riders then select music sources "on the fly". Utilizing a Garmin® GPS with Blue Tooth® capability allows riders use their cell phone through the microphone and helmet headset speakers.
MotoChello chose to go wired, rather than wireless, to produce true, high fidelity music and uninterrupted communications. They also wanted to avoid the potential safety issues of having batteries and RF signals next to the rider's head. The company states that response from early testers confirms it was the right choice for them.
"Exceptional; sound quality was better than anything experienced before through countless sound systems. Volume was excellent and sound quality was clear and crisp." – A. Paul
The MotoChello audio system is controlled by a handle bar mounted touch screen display that includes a backlit button panel. The touch screen is calibrated for gloved hands and the button panel is clearly marked for common functions used while traveling.
Riders calibrate the volume levels of connected music sources so volume changes will be consistent when changing between devices. Other features include bass and treble equalizers, loudness, simulated 3D sound functions and fade controls (left to right headset speakers, or front to back rider/passenger levels). Music fades as much, or as little, as riders specify when listening to GPS instructions or voice communications.
A battery voltage meter is also built in to the system and an icon on the main screen continually displays the battery's charging status and warns of critical levels.
Software filtering tunes out most wind and other noises, even at high speeds. Voice channels are separate so when talking to other riders on the radio, they only hear voice without background music or engine noise.
The MotoChello system also includes an enhanced motorcycle intercom. Microphone sensitivity can be adjusted for nearly all riding conditions and the system is full duplex. A unique feature is that only the microphone of the person speaking is activated so wind noise is further reduced. Only when both riders are speaking at the same time will both microphones activate, allowing for a normal conversation. There is also a separate volume adjustment for incoming messages from other riders using a two-way radio. Helmet headsets can be muted or unmuted at any time, as well as one or both microphones, if desired.
Riders can select a display color scheme from a list of choices, and a brightness button adjusts the screen quickly for changing light conditions. A "push-to-talk" button for the two-way radio is positioned on the display button panel, but separate PTT buttons can be mounted at other locations for rider or passenger use.
The MotoChello is a complete motorcycle stereo system to integrate the rider's devices. The MC-100 includes 2 sets of premium headsets and microphones for helmet installation, handlebar mount and all necessary cables for installation and operation. Multiple audio cables are also included to attach devices, with separate cables for FRS radios. The system will be available directly from MotoChello and is expected to be available late September 2012. MotoChello is offering an introductory special (including shipping) through the end of the year with a 30-day money-back guarantee.
To learn more about the MotoChello MC-100 system, visit http://www.motochello.com
About MotoChello:
The MotoChello system was designed by a multi-patented electronic engineer with a background in audio and theater systems and a long time rider himself. Like many riders, he had tried many motorcycle communication systems and was not satisfied. So he decided to put his expertise to work and develop the stereo system he wanted for himself. The result is the MotoChello MC-100, a quality motorcycle audio and communication system that addresses the most common complaints of riders and has the ability to be easily adjusted and personalized while providing great sound quality with all functions.