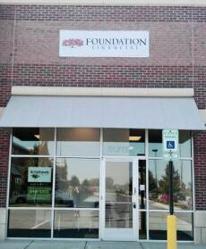 The national launch of our retail storefronts has been in the planning since we conceptualized Foundation Financial Group so that we can better service our clients
Indianapolis, Indiana (PRWEB) September 04, 2012
Foundation Financial Group announced the launch of its second branch office in the Indianapolis area within the last year. The office is located at 1279 North Emerson Avenue in Greenwood Springs, Indiana.
The Foundation Financial Group south Indianapolis branch office opened its doors on September 4th. Initially, this retail location will employ eight people and will offer mortgage services, adding insurance and other financial services as the branch grows. FFG is always looking for fresh talent and provides all training, continuing education, and licensing to its employees.
"The national launch of our retail storefronts has been in the planning since we conceptualized Foundation Financial Group so that we can better service our clients," said Foundation Financial Group CEO, Mark W. Boyer. "These local branches give us an opportunity to step out of our office towers and meet our local customers face to face."
The branch will be overseen by Foundation Financial Group Branch Sales Manager, Megan Catlin. Catlin received her BA from Illinois State University and has lived in Indianapolis since her 2002 graduation. She has eight years of industry experience and since her start with Foundation Financial she has earned five Cornerstone Awards. FFG honors the single top performer at each position within the company and rewards excellence in sales leadership and management with its prestigious Cornerstone Award.
"Foundation Financial Group gave me the perfect opportunity for a rewarding career with tons of growth," said Catlin. "I love what I do and am extremely excited to be a part of the launch of FFG's newest branch."
Catlin also volunteers her time at various non-profit organizations and events including Junior Achievement, YMCA, Humane Society, Special Olympics, and Ronald McDonald House.
About Foundation Financial Group
Foundation Financial Group is a multibillion dollar financial services corporation. FFG offers its customers Best in Class service through its Insurance, Retirement, Mortgage, and Tax Services. Named one of the fastest growing financial companies in the country by INC magazine, FFG has continued to grow its nationwide presence with over 100,000 new customers per year in 38 states. In addition to the value that Foundation Financial provides every customer, it is also dedicated to its communities and the people who live in them. Through a vast array of philanthropic endeavors the company not only provides significant monetary donations but also fosters a workforce environment that encourages all team members to personally make a difference. Foundation Financial is committed to its strong focus on customer service and community investment as it continues to grow and compete with the largest financial institutions in the world.
Foundation Financial Group reviews all public relations inquiries. For additional information, interview and image requests, contact the Foundation Financial Group Public Relations team at 866-659-3200.