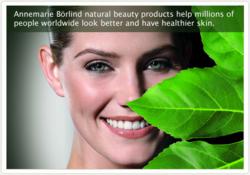 "Börlind of Germany was the first to recognize the connection between discerning department store shoppers and the demanding health food store shopper
(PRWEB) September 02, 2012
Bioforce USA, based in New York, is pleased to announce an agreement with Börlind of Germany, Inc., the US distributor of German based Börlind GmbH, to acquire the company's distribution rights for the Annemarie Börlind product line. The transaction is scheduled to be completed on October 1, 2012.
Pierce Sioussat, Bioforce USA President & CEO had this to say; "Börlind of Germany was the first to recognize the connection between discerning department store shoppers and the demanding health food store shopper. This connection was the beginning of a whole new opportunity for natural products retailers to sell premium, department store quality skin care and cosmetics. We hope to build on this connection and reinforce the main reason the Annemarie Börlind brand became such a significant success."
Linda Kulow, President of Börlind of Germany, has been asked to stay on and provide support to Bioforce USA during the transition. "I am excited to see Annemarie Börlind start this new chapter in its evolution. Pierce will do a great job, and as I now shift my focus to training and education, I am thrilled to continue to support the brand, and the industry, I love so much." said Kulow.
Michael Lindner, President of Börlind GmbH (Calw, Germany) commented: "I am thankful to the Kulow family for their pioneering efforts and ongoing stewardship of the Annemarie Börlind brand, and look forward to working with Bioforce USA as we continue our mission of making the very finest natural skin care products available to natural products consumers in the US."
About Bioforce USA:
Bioforce USA is a leading importer of European natural brands. It works with only the highest quality companies with clinically substantiated products or products that have achieved medicinal registration status in Europe and have a significant history of safety and efficacy. Two Bioforce USA brands, A. Vogel and Bionorica, have been recipients of the Varro E. Tyler Commercial Investment in Phytomedicinal Research Award. Other Bioforce USA brands include Herbatint permanent hair color gel, Secure Denture Adhesive, Sanhelios herbal supplements, Bekunis laxative, and Dado Sens DermaCosmetics.
For more information call Eileen Sheets at 800-641-7555 x 100
http://www.BioforceUSA.com