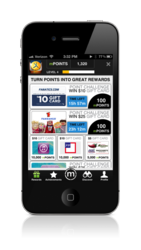 We can now offer a comprehensive rewards platform that appeals to more users
Washington, DC (PRWEB) September 25, 2012
In the September print issue, Self Magazine called the Nexercise weight loss app an "awesome app" that will help you "get seriously motivated to move." It was one of four featured apps in their "Get Paid To…" section that described apps that deliver real rewards. Now, Nexercise has thrown down the reward gauntlet by simultaneously offering two unique reward types, which insiders often view as competing models
Two Unique Reward Opportunities:
Nexercise has been successfully offering random rewards via a third party for several months. "Nexercisers know that every time they work out, there is a 'chance' they will win a cool prize or discount like a free sample of Propel Fitness Water, a Best Buy gift card, or even a discount on GE light bulbs." says Nexercise CEO Ben Young. Young goes on to say, "Random rewards are a powerful tool in gamification, because they keep people 'pulling the slot lever' every time they exercise in hopes that they might win a prize, but we sensed that was not enough for some people." He concluded by saying, "We knew aspirational rewards could be a very powerful motivator for people not only by providing something long term to strive for, but also by taking out some anxiety associated with randomness. Now we have the capacity to offer this benefit."
Through a third party platform, Nexercise now offers a point feature that allows users to earn points for exercising. Similar to airline frequent flyer miles, you can accumulate them until you are ready to redeem them for items like gift cards with Amazon, iTunes, or Starbucks. You can even donate them to charitable causes. With this integration, Nexercise rewards take on a new and equally exciting dimension by adding an aspirational aspect to the game.
"By using both random and aspirational rewards simultaneously, we can finally offer a comprehensive rewards platform," states Nexercise COO Greg Coleman. Coleman goes on to say, "Industry insiders tend to think of these models as competing ones, but as far as we're concerned, they both provide unique value and together deliver a comprehensive user experience." He concluded by saying, "We think these approaches are two of the long sought after secrets of consumer engagement in mobile advertising."
Results:
The engagement numbers cannot be ignored. Nexercise user engagement is growing rapidly and dramatically outperforming banner advertisements in the app by over 100x. Using these two reward mechanisms together has increased Nexercise company revenues by approximately 219% in one month. This increase has been adjusted for Nexercise's rapid user growth and reflects an actual 3x increase in revenue per active user, proving that the whole is greater than the sum of the parts.
Nexercisers are happy to receive the rewards, the partners are happy to distribute them, and companies looking to place their products and brands in front of a targeted user base are happy to provide them for distribution. It is a winning combination for everyone. Nexercisers look forward to hearing from the brands and actually verbalize disappointment en masse when they do not.
Background:
Nexercise is motivation for people who want to lose weight and get in better shape. Through its free app, Nexercise motivates people to lose weight, get in better shape, and finally be consistent in their fitness behaviors. It is available on the Apple App Store and Google Play and is one of the top rated health and fitness apps in both (4.5 of 5.0 stars). Through physical activity users stay in touch with friends, earn rewards, track progress, and defeat challenges. Nexercise is headquartered in Silver Spring, Maryland
The latest version of the Nexercise app is available now for iPhone in the Apple App Store at:
http://itunes.apple.com/us/app/nexercise/id417348701 and for Android in Google Play at:
https://play.google.com/store/apps/details?id=com.nexercise.client.android