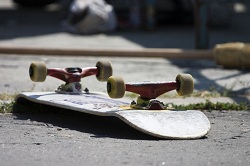 When an individual leaves the scene of an accident, it is an unconscionable, inhumane, and irresponsible act.
Newport Beach, CA (PRWEB) September 05, 2012
The Newport Beach personal injury law firm of Bisnar Chase is urging the public to come forward with information about a hit-and-run crash that severely injured 16-year-old Hunter Bogert. According to the August 27,2012, NBC news report, the teenager fell from his skateboard at the corner of Ola Vista and Avenida Santa Barbara in San Clemente on August 22, 2012 when a car hit him and dragged him 10 to 15 feet. In addition to tire marks on his back, Bogert received 13 stitches across his stomach. His pelvis was chipped and he suffered injuries to his knees and elbows as well.
According to the NBC news report, Bogert's friend, Connor Covey saw the incident and ran after the driver, slammed on the car's window and yelled at her trying to get her to stop. Covey said the driver ran over Bogert one more time and drove away from the scene. Bogert's parents – Bill and Shauna Bogert -- are working with the police to find the driver. The suspect vehicle has been described as a gold Lexus with Nevada license plates. The family has placed flyers throughout San Clemente asking for the community's help in locating the driver. Police have said the driver will be charged with felony hit-and-run when apprehended.
In support of this Orange County family's effort, Bisnar Chase will offer a $1,000 reward through its Hit-and-Run Reward Program for information leading to the arrest and felony conviction of the driver responsible for seriously injuring Hunter Bogert. Anonymous tips may be provided through the WeTip crime hotline, 800-6-Hit-N-Run (800-644-8678).
"Our hearts go out to this family for what they are going through at this time," said John Bisnar, founder of Bisnar Chase and the Hit-and-Run Reward Program. "It is indeed a miracle that Hunter survived this horrendous crash. I wish him the very best for a quick and full physical and emotional recovery."
"There is absolutely no excuse for leaving the scene of an injury crash," said Bisnar, who has more than three decades of experience representing seriously injured auto accident victims.
"We hear all sorts of excuses from 'I'm scared' to 'I panicked.' None of those are acceptable. When an individual leaves the scene of an accident, it is an unconscionable, inhumane, and irresponsible act. It is crucial that these drivers are apprehended and held accountable."
About Bisnar | Chase
The Orange County auto accident lawyers at Bisnar Chase represent people who have been severely injured or have lost a family member due to a traffic accident, defective product, or negligence. The law firm has obtained nearly two hundred million dollars in settlements and verdicts for their clients by winning a wide variety of challenging personal injury cases. The law firm also represents people who have been seriously injured or lost a family member due to drunk driving and hit-and-run collisions.
If you know of someone seriously injured in an auto accident, call 800-561-4887 or fill out the online form at: http://www.bestattorney.com for a free evaluation.
Attribution: http://www.nbclosangeles.com/news/local/Orange-County-Skateboarder-Hit-Run-Driver-Hunter-Bogert--167622645.html