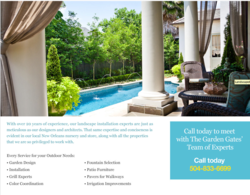 We were all in this together, and it was important for our customers to understand that. Chad E. Harris
Metairie, LA (PRWEB) September 11, 2012
Preparing for the worst was an important lesson learned from Hurricane Katrina. Before that fateful storm, a plan that went beyond securing the store was not in place. Everyone knows to board up the windows and doors and protect the merchandise, but what happens after that? Hurricane Katrina showed us how quickly devastation can occur, seemingly out of the blue, and displace a business's network of staff, customers and vendors.
This time we kept close tabs on all who were instrumental to The Garden Gates' business. Hurricanes notoriously wreak havoc on cell phones and landlines, making communication challenging. We found that text messaging was and still is the most effective way to keep staff in the loop. Utilizing communication sources outside of our physical location is also critical to staying in touch during a disaster. Posting updates on Facebook and other social media sources kept our customers informed, especially those in other parts of the country who might not be aware of the conditions we were facing.
As soon as Hurricane Isaac entered the Gulf of Mexico as a tropical storm, we knew we had to put together a timeline of preparing for the storm. There were a number of aspects to take into account, such as physically preparing the store, office and warehouse; preparing videos, emails and other communication tools for quick distribution; and making our landscaping teams and equipment available for emergency clean up anywhere in the metro area. Creating plans and especially mass communication for each potential scenario is best to keep in a business's emergency arsenal. It's also extremely important to maintain a level of transparency with customers during a time like this - because at the end of the day we were all in the same situation.
The Garden Gates is up and running with minimal physical damage, and our online lifestyle store was not affected whatsoever. The Garden Gates' network of staff, customers and vendors have all pulled through safely and successfully; now it's time to clean up.
About The Garden Gates
Founded by Jacqueline Elizabeth Kendall-Harris and Chad Harris in 1999. Jacqueline plays an instrumental role in product development, interior design and the developing the core principles of The Garden Gates lifestyle. Chad plays an instrumental role in the creativity of the brand, marketing and technology of the business.