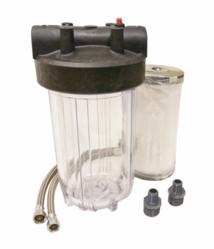 Farmingdale, NY (PRWEB) September 02, 2012
After years of meticulous research, NSG Precision Cells is proud to announce its new venture in the field of water decontamination products for both home and laboratory use. The importance of clean water in laboratories is unquestionable. Water is by far the most commonly used solvent in laboratories, making up an overwhelming mass of most solutions. Therefore, quality control is paramount.
In response, NSG's R&D department has produced the ultimate solution for decontamination of water in the laboratory in the form of its Combined Ultra-Pure and RO Water Purification Systems. Drawing on Crystal Source CDT10 technology, which the Water Quality Association awarded a Gold Seal Certificate in 2011, it provides a number of unique, high-quality advantages to the laboratory.
Unlike other water decontamination systems, no disposable filters are required for the removal of suspended solids, giving users a substantial savings as there is no need to replace costly filter cartridges. NSG's 1 year manufacturer's warranty is also in effect with extended warranties available. The Combined Ultra-Pure and RO comes in 3 separate flow options- 1.32 gallons/hour, 2.64 gallons/hour, and 5.28 gallons/hour. Laboratories engaging in biochemical analysis, reagent preparation, microbiology media preparation and others will benefit greatly from these water decontamination system.
For heavier water decontamination, NSG's Process and Waste-Water Biological and Chemical Decontamination and Remediation [link] system is the go-to solution. Filtering out a diverse array of chemicals, organic contaminants, and agricultural contaminants, the Process and Waste-Water Biological and Chemical Decontamination and Remediation comes in 2 standard models- the BCDR- 3.5 (3.5gallons/minute) and the BCDR-7 (7gallons/minute) as well as an option for customers to have their own custom models built.
Finally, the Safe and Beyond Water Filter for Laboratory or Home Use (SAB) provides a breakthrough home solution for customers looking to filter out harmful contaminants from their water supply such as chlorine, chemicals, lithium, chloride, suspended solids and microorganisms. The SAB is currently the only practical water decontamination product on the market that brings the user's water supply to within health ranges as stipulated by the FDA and EPA.
Home users will find that by using the SAB filter they will never need to purchase bottled water again, saving them hundreds possibly even thousands of dollars per year. The filter life varies upon how much contamination is in the user's water, but NSG recommends replacing the SAB-B filter about once a year.
The SAB comes in 2 basic configurations: basic and advanced. The Basic SAB (SAB-B) significantly reduces a broad spectrum of residual chemical contamination which routinely passes through municipal and private water purification systems, including Reverse Osmosis Systems. The Advanced (SAB-A) goes even further, eliminating bacteria, protozoa and fungus contamination of drinking water, which otherwise often occurs as a result of imperfection of water distribution systems and frequently occurring malfunctions at water purification facilities. The SAB can easily be installed on a wall, on the floor or in an under-sink cabinet and hiring a licensed plumber is not required.
NSG Precision Cells seeks to build on its longstanding reputation in the field of spectroscopy and its tireless dedication to its customers by providing the highest quality water decontamination products available on the market today. Customers will be impressed not only by the unmatched quality but also the competitive prices that current NSG customers have come to expect.