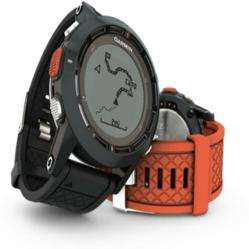 We still have a few of our initial order remaining so people who jump on them fast can get one early because Garmin is now out until October 12th as of August 31st
Bozeman, MT (PRWEB) September 01, 2012
The new Garmin fenix GPS watch is scheduled to be shipped to dealers that ordered early on September 7th and are now available for advanced orders at the Heart Rate Watch Company.
"We jumped on the Garmin fenix right away because we had extensive testing experience this summer with the new Suunto Ambit and we knew the Garmin fenix was going to be hot," says Rusty Squire, President of the Heart Rate Watch Company. He adds, "We still have a few of our initial order remaining so people who jump on them fast can get one early because Garmin is now out until October 12th as of August 31st".
Garmin fenix was announced in July and becomes the first wrist watch to perform handheld navigation in combination with heart rate data, if buyers purchase an optional Garmin chest strap.
"The on screen mapping and the Track Back feature have allowed this watch to transcend traditional sports and have been of great interest to mountain climbers, hunters and other types of outdoor sports," says Squire. He adds, "It is also pretty trick for mountain biking, river running and downhill skiing; we've even had elk hunting guides here in Montana order them."
The fenix by Garmin is part of a new genre of watches that began in May of 2012 when the Suunto Ambit was introduced by Suunto. "We call them adventure GPS fitness watches because they have so many features including altimeter, barometer, compass, heart rate and mapping that makes them tough to nail them down to a narrow range of uses," says Squire.
There is just a little over one week left before the new Garmin fenix begins shipping. "I have few doubts that we will be sold out and then people who want one will need to wait a full month into October, so the time to jump is now before they are all gone," says Squire.
Anybody who goes into the back country can use a device like this because it improves safety, weather knowledge, navigation and so many aspects related to outdoor sports in the woods or back country. Sports like ATV riding, snowmobiling, back country skiing and many more all have reasonably good and applicable uses for this product.