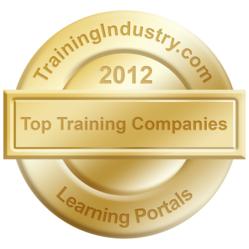 Hong Kong (PRWEB) September 01, 2012
NetDimensions (AIM: NETD; OTCQX: NETDY), a global provider of performance, knowledge, and learning management systems, has been named among the Top 20 Learning Portal Companies for the third year running by TrainingIndustry.com.
"This recognition affirms our commitment to providing our clients with personalized learning solutions that enable them to deliver learning and development programs in an environment that is familiar, easy to use and navigate," noted Alex Poulos, Chief Marketing Officer, NetDimensions.
The NetDimensions Software Development Kit (SDK) enables organizations to deliver the functionality of the NetDimensions Talent Suite to employees, customers, partners, and suppliers in the value chain, through intranets or customized portals.
"NetDimensions SDK can also be used to integrate talent management functionality into social environments and mobile devices," added Poulos.
"It is also the technology that enables NetDimensions to integrate its solutions with 3rd-party systems including HR, ERP, CRM, and HCM platforms."
Commitment to Global Corporate Training and Innovation
TrainingIndustry.com's Top 20 Learning Portal Companies List represents the pioneers of technologies companies in the industry. Selection of this year's Top 20 list was based on the following criteria: breadth of functionality and capabilities; commitment to the corporate training market; industry visibility, innovation and impact; number and strength of clients; and geographic reach.
"These companies offer a variety of learning portal services and present various levels of customization for their clients. There is also a strong focus on improving the ease of use through simple, innovative platforms and interfaces" said Doug Harward, Chief Executive Officer of Training Industry, Inc.
About NetDimensions
Established in 1999, NetDimensions (AIM: NETD; OTCQX: NETDY) is a global provider of performance, knowledge, and learning solutions.
The NetDimensions Talent Suite enables companies, government agencies and other organizations to personalize learning, share knowledge, enhance performance, foster collaboration, and manage compliance programs for employees, customers, partners and suppliers.
Recognized as one of the talent management industry's top-rated technology suppliers in overall customer satisfaction, NetDimensions has been chosen by multinational organizations worldwide including ING, Cathay Pacific, Chicago Police Department, Delphi Automotive, Progress Software, and Travelex.
NetDimensions is ISO 9001 certified and NetDimensions hosted services are ISO 27001 certified.
For more information, visit http://www.NetDimensions.com.