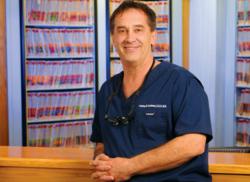 (PRWEB) September 01, 2012
Lindsay B. Eastman, DDS, MS, PA, is one of an elite group of dental professionals that is able to offer his patients the Laser Assisted New Attachment Procedure for periodontal disease treatment. Millions of Americans suffer from gum disease, but many do not seek the necessary treatment. With the new LANAP option, Dr. Eastman is hoping more patients will be willing to get the treatment they so desperately need.
Many patients don't realize that brushing and flossing their teeth daily is absolutely necessary in order to avoid periodontal or gum disease. When this routine is not properly followed, there are areas or pockets in the gums that allow bacteria to gather and even enter the bloodstream directly. This can lead to serious health problems such as diabetes, pancreatic cancer and even heart disease, among others. Dr. Eastman understands the repercussions of gum disease and wants his patients who suffer from it to receive periodontal disease treatment as quickly as possible.
The LANAP procedure is a minimally invasive method of removing diseased gum tissue and bacteria from the mouth. It does not damage healthy tissue or bone, but actually stimulates the healthy tissue to re-attach to the bone and the bone to begin to regenerate. The procedure uses a specialized laser that is very selective, so there is no cutting or suturing involved. The laser used is the PerioLase MVP-7, which is the only laser that has been cleared by the FDA for periodontal disease treatment.
The procedure tends to cause very little discomfort or pain, and it helps to save more of the healthy gum tissue so that gum recession is less of a problem. Dr. Eastman is thrilled to be able to offer this procedure to his patients with gum disease. He works with each patient to develop a proper treatment plan for their individual needs. To learn more about gum disease and the LANAP treatment option, visit http://www.bradenton-periodontist.com.
Lindsay B. Eastman, DDS, MS, PA is a periodontist offering patients personalized dental care for Bradenton, FL since 1980. Dr. Eastman received his Doctor of Dental Surgery degree from Loyola University Dental School where he completed his Graduate training in Periodontics and his Masters of Science in Oral Biology. He received his Post-Graduate specialty training in Surgical Placement of Implants from Northwestern University Dental School, and completed Business Management Training from Pride Institute. He is part of one percent of dental professionals providing the most recent FDA cleared laser procedure for gum disease and periodontal treatment. To learn more about Dr. Eastman and his dental services visit his website at http://www.bradenton-periodontist.com and call (941) 792-3899.