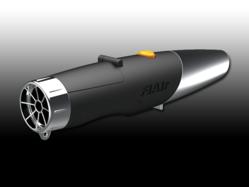 If a product is well designed, it should be readily apparent to a first-time consumer as to how it's used and how it works. What could be simpler than a one-button-point-and-shoot?
Pittsburgh, Pennsylvania (PRWEB) September 05, 2012
The concept of feeding life-giving air to fire is as old as fire itself. Cave dwellers did it by bending and blowing on flames. More evolved humans squeezed bellows, puffed through tubes and used hand-cranked devices to stoke their fires. Relatively recently, electric and battery-powered fans and blowers replaced muscle power, enabling a continuous flow of air to fire. What's next?
FiAir LLC reports that elements of jet engine technology were key to creating a lighter, more transportable and powerful hand-held blower for the grill and fireplace accessories market. Company founder Alan i Harris shares the credit for that inspiration with industrial designer Justin Aiello of Aiello Designs in Kennebunk, Maine.
"I searched the marketplace for years to find a small, sleek, lightweight, battery-powered blower powerful enough to stoke wood and charcoal fires from a safe distance," said Harris. "Nothing matched my requirements so I decided to make it myself. I was out of my depth when it came to the mechanics and physics involved, so the next search was for an industrial designer with the experience and talent to bring my vision to life. Justin's solution was elegant."
A marriage of elegance and engineering
Simply put, Aiello's task was to design a hand-held tube that pushes air out one end. It would need to be compact, ergonomic and aesthetically appealing while at the same time powerful, feasible to manufacture and engaging to consumers. After months of trial and error, testing and anemometer measurements of wind speed, Aiello found the right combination of optimum physical shape, fan blade and motor that would function as Harris envisioned. The next challenge was to house the components in a pleasing package.
"Aesthetically, I took a few design cues from incorporated turbine technology on a smaller scale," says Aiello. "The outside contours of FiAir mimic that of a jet engine in the way it tapers down and the rear intake has the appearance of a high-performance grill. Together, those elements create the look of a cool, high-end, industrial tool."
To further enhance user experience Aiello added several small details, including a hinged battery door, contoured grip, a foot to keep the blower from rolling and a loop for a carrying strap. Aiello believes the finished product accurately illustrates the core principles that inform his design.
"I live by two rules," said Aiello. "'Keep it Simple' and 'Form Follows Function.' If a product is well designed, it should be readily apparent to a first-time consumer as to how it's used and how it works. What could be simpler than a one-button-point-and-shoot?"
Problem as old as fire: Solved.
The design process resulted in the prototype for FiAir — a portable, hand-held, battery-powered blower that produces a controlled and continuous flow of air to rapidly stoke lit coals and logs. FiAir brings charcoal to cooking temperature in half the time of traditional techniques and wood from first light to full blaze in about two minutes. At 8.75 inches in length and weighing 3.5 oz., FiAir will be the only battery-powered blower on the grill and fireplace accessories market designed to be both easily portable and equally appropriate for indoor and outdoor use. FiAir contrasts with competitive blowers in its compact design and the use of a battery-powered motor to create continuous airflow as opposed to products that require users to blow into a tube, crank by hand or plug into an electric power source.
About FiAir, LLC
FiAir, LLC is the developer and sole provider of FiAir™, a portable, battery-powered blower that feeds and speeds charcoal and wood fires at the grill, fireplace, tailgate party or campsite. Its lightweight, compact design and battery-powered motor make FiAir the first truly portable, indoor-outdoor blower on the grill and fireplace accessories market. FiAir is sold exclusively online. For more information about FiAir or to place a no obligation pre-order at a discount of 33%, please visit http://www.fiair.net/. FiAir, LLC was established in April 2012 and is based in Pittsburgh, Pennsylvania.
CONTACT:
Alan Harris, Founding Member, FiAir LLC
412-687-5700 or chief(at)fiair(dot)net