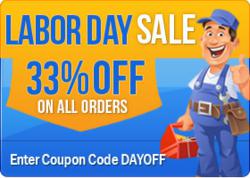 Castle Rock, CO (PRWEB) September 02, 2012
Shades Shutters Blinds, a national retailer of custom, American made window treatments, is offering a huge 33% off site-wide sale. "This is the last major holiday of the Summer and people are winding down for the fall", explains Rose-Marie who runs the marketing department, "last minute projects can include preparing for winter or protection from the heat".
Shades Shutters Blinds will be offering this promotion from August 31st until the 6th of September. "Just put in coupon code "DAYOFF" at checkout to reflect the sales price" Rose-Marie explains. "98% of the window treatments Shades Shutters Blinds provides is made right here in the USA and shipping is usually free".