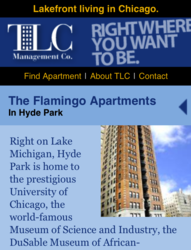 We want every aspect of our business, both offline and online, to be as simple and hassle-free as possible.
Chicago, IL (PRWEB) September 04, 2012
Chicago based property management company TLC Management Co., owner and operator of thirty-four lakefront rental buildings, improves apartment searching for on-the-go Chicagoans with the launch of two new mobile websites. Considering all of the advances that have been made in smartphone and tablet technology within the past few years, browsing the web via a mobile device has never been easier and more in demand by Chicago apartment searchers. Case in point, TLC's mobile traffic to their website has more than doubled in the past year. Recognizing this trend, TLC has now made mobile a key part of their overall marketing strategy.
"Navigating standard websites from a mobile device tends to be extremely tedious; the text is hard to read and they often require a lot of scrolling and zooming, just to view content and navigate from page to page. This can be very frustrating for the apartment searcher," said Stuart Handler TLC Management CEO. "We want every aspect of our business, both offline and online, to be as simple and hassle-free as possible."
To address the needs of the mobile apartment searcher, TLC has introduced not just one, but two mobile websites. The first mobile website is for their primary site, http://www.chicagorentals.com. The second mobile website is focused on furnished apartments and short-term housing, http://www.chicagofurnishedapts.com. The new mobile websites make searching for an apartment in Chicago on a mobile device an enjoyable experience from beginning to end. TLC's mobile websites are optimized for the mobile Internet user, making them easy to read, while not compromising user content. They provide all the basics on TLC's apartment locations, building amenities, features, and photos. TLC mobile searchers can now get to the information they need without any fuss. Whether it is on the train, on the couch, or in the coffee shop, finding an apartment in Chicago has never been easier.
About TLC Management Co.
Since its inception in 1997, TLC has provided Chicago residents with the best in lakefront living. TLC Management is a Chicago-based company that exclusively owns and operates thirty-four rental apartment buildings on or near Chicago's lakefront from Evanston on the North to Hyde Park/South Shore on the South. To learn more about TLC Management Co. and their lakefront apartment properties visit them at http://www.chicagorentals.com.