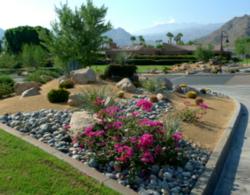 "We're thrilled that our club looks like a new community!" (Ironwood CC member)
Palm Desert, CA (PRWEB) September 02, 2012
Relandscaping the grounds of an existing club -- especially one as large as Ironwood CC -- requires excellent leadership to engage the participation of the numerous homeowner associations. Happily, all of the associations have either been actively involved or plan to be, as the club continues with its major landscape rennovation.
It's no longer news that water efficient landscaping saves money in irrigation costs, but the savings in maintenance are also substantial. The club estimates that their savings in water and maintenance will amortize the investment in 10 - 15 years, not to mention providing a fresh look for the club which has been popular with the members.
In a recent annual survey among its members, the leadership received a 90% positive feedback on the improvements, with many commenting that Ironwood looks like a new community and no longer dated.