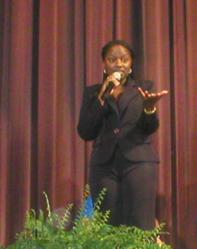 "I know people are looking for answers during this economic downturn and as I speaker myself, I understand the power of strong verbal communication skills." Angela Ray
Atlanta, GA (PRWEB) September 04, 2012
Small business owners have been hit hard by the Great Recession and the unemployment rate in the United States increased in July of 2012 to 8.3 percent, as reported by tradingeconomics.com. Developing top job skills is critical for those impacted, and according the National Association of Colleges and Employers, its job outlook survey from 2011 reports that the top skill employers want in job candidates is verbal communication skills. Small business owner and speaker, Angela Ray, has plans to help increase the verbal presentation I.Q. of the program participants of the Speaker Success Summit on October 6th and 7th in Atlanta.
The program, which is a two day, boot camp style training, is designed for small business owners, particularly those who are speakers, authors, entrepreneurs, trainers, consultants, and internet marketers. Job seekers who want to be able to speak with more confidence should attend this event.
"I know people are looking for answers during this economic downturn and as a speaker myself, I understand the importance and the power of strong verbal communication skills," Ray said. "I am fortunate to be able to help a few individuals with this training program."
According to moneyning.com, a recession is a great time to start a business, reporting that FedEx, Microsoft, GE and Burger King were all started during recessions. When jobless candidates are forced to make that gutsy move, sometimes a little continuing education is the boost they need. The Speaker Success Summit offers that potential boost.
Ray has spent most of her life speaking. In high school, she became the first African American to represent the state of North Carolina in the National Civic Oration Contest. She went on to earn a degree in Speech Communication, with honors, from the University of North Carolina at Chapel Hill. No stranger to training and teaching others, Ray has spent more than a decade contracted as a presenter and more recently speaker trainer, for Making it Count, a subsidiary company of Monster. She is also a former instructor for Duke's Continuing Education, teaching performance and writing, the vital components for speaking.
Participants will have an opportunity to compete in the "Speakers' Got Talent Showcase™." Speakers will have three minutes to present their best content and will receive on the spot feedback from a panel of talented experts in speaking and presenting on stage. As an added bonus each speaker will receive a copy of their presentations and the feedback they receive as the showcase will be videotaped.
About the event
Angela Ray is an award winning speaker, coach, and author. She is the author of the book Blackberry Whispers, and the forthcoming books, Rehearsing for the Leading Role: Secrets to Successful Leadership for College Students and Crossing the Sands of Sisterhood: Stories of Friendship among the Four Divine Nine Sororities. Today in addition to traversing the globe as a highly requested speaker, she is a special correspondent for Brand Newz, produced by Hip Hop legend, Christopher "Play" Martin.
The Speaker Success Summit will take place at the Holiday Inn Atlanta Airport North, located at 1380 Virginia Avenue. Participants can request the "Success Summit" group rate. Registration opens on September 5, 2012. For more information about the program or to schedule an interview, please call Angela Ray at 855-387-4469.