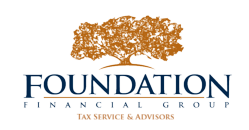 Choose a tax professional wisely; regardless of who prepares the tax returns, the taxpayer is ultimately responsible for their accuracy...
(PRWEB) September 12, 2012
With the 2013 tax season fast approaching, Foundation Financial Group's Vice President of Tax Services, Joshua Barger, talks tax tips to help taxpayers plan for next year's tax season.
"First and foremost, organize the recordkeeping system," said Barger. "It's extremely important to have a process that is simple and works for the taxpayer. Establish a central location where everyone in the household can put tax-related records throughout the year; remember to be consistent. Most people use shoe boxes, accordion file folders, or file cabinets. Additionally, taxpayers should always store prior years' returns and supporting documents in a secure and easy to find place."
"Taxpayers should also review their paychecks to ensure their employers are withholding and reporting health insurance payments, retirement account contributions and other deductions properly. Payroll adjustments grossly affect the bottom line and correcting an error now will get the tax payer back on track before difficulty arises," advised Barger. "While checking with employers, taxpayers should go ahead and adjust their withholding, especially if they would prefer more money in their check each pay period. If a taxpayer owed at tax time and does not want to owe again next year, adjusting their withholding may improve the chances of not owing the IRS two years in a row. The IRS has a withholding calculator on their webpage that is a very helpful guide to taxpayers."
"A well informed taxpayer can maximize their filing opportunity," Barger said. "Keep up with tax law changes, IRS announcements, and helpful tips through the IRS webpage. For example, the American Opportunity Tax Credit, which offsets higher education expenses, is set to expire after 2012. Therefore, it may be beneficial to pay 2013 tuition in 2012 to take advantage of this tax credit before it expires."
"Plan to itemize deductions," advised Barger. "If a taxpayer's expenses fall just below the amount to make itemizing advantageous, planning to bundle deductions into the 2012 tax year could pay off. Donations, pre-deadline property tax payments or an early mortgage payment could equal tax savings to a taxpayer."
"Finally, start searching now to find a tax professional, before there is the added stress of a deadline," Berger recommended. "Choose a tax professional wisely; regardless of who prepares the tax returns, the taxpayer is ultimately responsible for their accuracy, so it's important to select a tax professional that has significant experience, is proficient in the tax preparation field, and works with each client individually to accomplish their goals and fulfill their needs."
For more information, please visit http://www.IRS.gov.
Barger has been in the tax services industry for over 13 years and has helped thousands of customers maneuver the complex rules of the Internal Revenue Service. He holds a finance degree from Marycrest International University in Davenport, Iowa. Barger is a certified official for men's and women's college volleyball and is a volunteer for The IRS Volunteer Income Tax Assistance Program (VITA). Barger is also a golfing and fishing enthusiast.
About Foundation Financial Group
Foundation Financial Group is a multibillion dollar financial services corporation. FFG offers its customers Best in Class service through its Insurance, Retirement, Mortgage, and Tax Services. Named one of the fastest growing financial companies in the country by INC magazine, FFG has continued to grow its nationwide presence with over 100,000 new customers per year in 38 states. In addition to the value that Foundation Financial provides every customer, it is also dedicated to its communities and the people who live in them. Through a vast array of philanthropic endeavors the company not only provides significant monetary donations but also fosters a workforce environment that encourages all team members to personally make a difference. Foundation Financial is committed to its strong focus on customer service and community investment as it continues to grow and compete with the largest financial institutions in the world.
Foundation Financial Group reviews all public relations inquiries. For additional information, interview and image requests, contact the Foundation Financial Group Public Relations team at 866-659-3200.