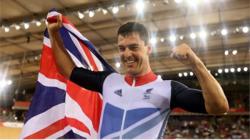 I'd like to dedicate this to my late father and my mother in the crowd here - and my daughter, who has been through a lot with my accident and stuff. Thanks for the support
(PRWEB) September 01, 2012
Britain's Mark Colbourne produced a world record-breaking ride to win the gold medal in the C1 individual pursuit.
The victory - which was ParalympicsGB's third gold of the Games - lifted the Velodrome after a huge controversy which saw home hope Jody Cundy disqualified.
Cundy was going for gold in the C4-5 1km time trial, but was not allowed a restart after a faulty opening to his ride.
Team-mate Jon-Allan Butterworth claimed silver in the event.
But what was developing into a mixed afternoon in the velodrome hit a high as Colbourne routed Li Zhang Yu in a world record time.
The Welshman had already broken the mark in qualifying and was closing in on the Chinese athlete when he crossed the line in 3:53.881.
It was sweet revenge for the 43-year-old, who finished second behind Yu in Thursday's individual C1-2-3 1Km time trial.
Colbourne, who was left with lower-leg paralysis following a paragliding accident three years ago, told Channel 4: "The way my body works, if I go flat out for five laps I struggle, so I work to make sure I can sustain this Bradley Wiggins-type pace.
"Our plan worked. For me, I had this dream two years ago. I keep pinching myself. I'd like to dedicate this to my late father and my mother in the crowd here - and my daughter, who has been through a lot with my accident and stuff. Thanks for the support."
Earlier, Spanish teenager Alfonso Cabello had to break Butterworth's world record in the time trial - clocking 1:05.497 - to deny his rival the gold, with the Briton missing out by an agonising 0.038 seconds.
Cundy, meanwhile, who was born with a foot defect, was apoplectic with rage after officials denied him a restart, despite replays clearly showing his wheel had slipped at the start.
The 34-year-old immediately put his hand up to signal he had a problem, but after a heated conversation with ParalympicsGB coaches, the judges refused to grant him a re-run, handing the gold to Cabello.
Later in the afternoon, there was a bittersweet moment for Darren Kenny as Britain took silver and bronze in the men's individual pursuit C3.
Kenny, who was tipped for gold, failed to make the final but broke the world record in claiming a bronze with a blistering ride against world champion David Nicholas of Australia, taking his Paralympics medal tally to nine.
Team-mate Shaun McKeown had to settle for silver after America's Joseph Berenyi, who lost his arm in an accident at work, set off at a searing pace and had just enough left in the tank to hold on for victory.