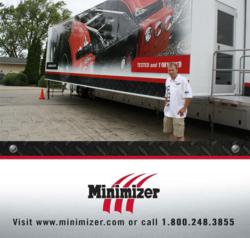 Blooming Prairie, MN (PRWEB) September 01, 2012
Minimizer recently promoted Trevor Kruckeberg to the position of Special Projects Manager. The new role and title more accurately reflect the work and management role Trevor will be fulfilling.
"Historically Trevor has successfully served in multiple manufacturing positions within Minimizer," said Tim Trom, Vice President of Operations & Finance, "This promotion recognizes his achievements and gives him the opportunity to grow and expand his contributions to the organization."
The promotion was the result of several factors including Trevor's years of experience with Minimizer, the number of departments he's worked in and his recent completion of diesel truck driving school in Sun Prairie, Wisconsin. While there Trevor earned his Commercial Drivers License, or CDL.
One of Trevor's first significant special projects is to supervise the design and construction of Minimizer's new over-the-road training and promotion rig. In addition, he will be responsible for managing the schedule and driving the truck to any one of the over 800 Distributors and/or shows in North America.
"I'm really excited about these projects and new opportunities," said Trevor, "Designing the new rig is an important piece of the overall Minimizer marketing strategy to get out in front of our distributors more and provide them with the training they need to professionally sell our product."
When asked how he felt about the impending time on the road, Trevor responded: "I don't mind it at all. I enjoy travel and I want to move the Company forward. We are fortunate to have the sales growth that drives the investments for assets like the new promotion and training truck."
Minimizer fenders will enhance the performance of all makes and models of over the road trucks, construction vehicles, or agriculture equipment. Enhance and protect your vehicle with Minimizer products. The toughness is unmatched as seen on this Minimizer promotional video entitled "Tested & Tortured".
For more information or to contact a dealer, call us at (800) 248-3855 or visit our website or email us at info(at)minimizer(dot)com.
About Minimizer
Headquartered in Blooming Prairie, Minnesota, USA, Minimizer manufactures poly truck fenders, plastic toolboxes, customized mud flaps, and bracket kits. Family owned and operated for nearly three generations, Minimizer parent company Spray Control Systems, Inc., was founded in 1983. Minimizer aims to provide products tough enough to please tough people in a tough industry. For more information call (800) 248-3855 or visit http://www.minimizer.com.