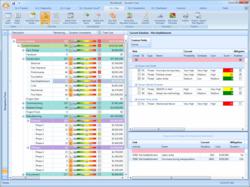 Acumen Risk provides the user direct access to the proven Acumen risk assessment method- a perfect risk workshop in a streamlined risk tool.
Austin, Texas (PRWEB) September 04, 2012
On September 18, 2012, Acumen (http://www.projectacumen.com) will launch Acumen Risk ™, the first truly integrated cost and schedule risk analysis and risk register software developed specifically for project-centric organizations.
Unique among other tools in the field, Acumen Risk aims to steer risk analysis away from complex, out-of-context statistical terminology, and toward simple repeatable results. It enables users to effortlessly link schedule and cost risk analysis through an innovative approach that determines the cost impact of schedule delays.
The basis of Acumen Risk is the Acumen S1 // S5 project risk analysis methodology. Also used in Acumen's risk consultancy workshops, this step-by-step process to improve project schedule maturity has earned Acumen risk consulting a reputation for accurately forecasting risk-adjusted completion dates. With new-to-market software, Acumen Risk, these same accurate results can be easily reproduced directly by the project team.
"When developing Acumen Risk, it was important to us to create a risk analysis tool that could be easily used without complex statistical knowledge, but still retain the power and accuracy that Acumen software is known for." said Acumen CEO and President, Dr. Dan Patterson. "Acumen Risk provides the user direct access to the proven Acumen risk assessment method- a perfect risk workshop in a streamlined risk tool."
The unique interface features Acumen Risk's Uncertainty Factor™ approach, a simple-to-use sliding scale for capturing team input into uncertainty around planned activity duration. Acumen Risk's risk register captures risk events, in both current and post-mitigation states, and allows the user to map these risks directly to the activities they will impact.
Acumen has also added a brand new metric, Risk Contribution™, as a way of measuring not only which risks and activities are causing risk exposure but more importantly how big their impact is. Additionally, the Risk Contribution metric reports drivers in terms of time and money, instead of abstract risk terminology that merely shows relative drivers. Combining these three factors, Acumen Risk develops the most accurate cost and schedule risk models giving true insight into project completion dates.
Acumen Risk is scheduled to launch at the Second Acumen Annual Summit in Houston, TX. This two-day conference, September 18-19, offers attendees a chance to learn from other project management professionals and hands-on training on existing Acumen software. Here, Acumen Risk will take its place on the Acumen software platform, furthering Acumen's goals of providing solutions for every aspect of project management.
Headquartered in Austin, Texas, Acumen was born from a recognized need for improved project performance insight and vision, integrating both schedule and cost. Through the use of project analytical techniques and best practices, Acumen is a project management company that is second to none in providing an insight into not only project challenges, but more importantly, through analytics, an effective means of solving them.