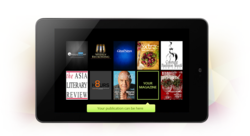 This expansion is in addition to our already broad compatibility with the iPad, iPhone and HTML5.
New York, New York (PRWEB) September 04, 2012
TapEdition is pleased to announce expanded Android app development services; now offering publishing app builders the ability to create android apps for magazines, newspapers, journals, catalogs, and brochures. TapEdition's app design platform enables users to develop end-products that are not only compatible with Android products, but also with iPad, iPhone and iPod Touch, and HTML5.
TapEdition's announcement is timely considering the Android market's recent explosion. Samsung's Galaxy S3 has toppled the marketplace, recently reaching 10 million units sold according to a recent report in India News, making it a solid contender within the Smartphone niche.
"While our publishing app platform leads the marketplace, we feel that it is critical to remain relevant. With Android's continual market expansion, we felt compelled to expand our publishing app offerings to include compatibility with the Nexus 7 tablet recently released by Google. This expansion is in addition to our already broad compatibility with all major tablets, Smartphones and HTML5," said Ari Silverman.
TapEdition is the first publishing platform to allow delivery across multiple platforms simultaneously.
Once content has been created, updates can occur in singular form with immediate delivery to all chosen platforms; iPad, iPhone, Android and/or HTML5. With TapEdition's technology, publishers can control the release of new issues as well as updates with a single mouse click.
TapEdition Android apps will include all of their popular interactive features, including:

Embedded Photo Galleries- Photos can be viewed via scroll view, overlay view, grid view or within a list.
Embedded Videos- When readers click on embedded hotspots, videos will be seamlessly played within their screens.
Links- Internal links within the publication and/or external links can be embedded.
Tap-to-email- When an embedded link is clicked, readers can send emails directly from within the app, removing the need to be redirected to another screen.
Ability to Purchase Issues from within the App- New issues or content can be purchased by readers from within the app, boosting revenue opportunities for publishers.
And, Many More.....
To begin building your Android app, visit http://www.TapEdition.com.