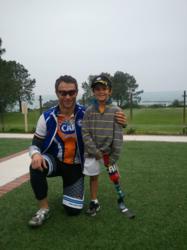 Minneapolis, MN (PRWEB) September 04, 2012
Coherent Solutions, a Minneapolis-based technology consulting and outsourcing firm with a software development center in Belarus, will sponsor CEO Igor Epshteyn in the 2012 Challenged Athletes Foundation's® (CAF) seventh annual Million Dollar Challenge starting on October 13. This is the second year in a row that Epshteyn will tackle the 620-mile bike ride from San Francisco to San Diego, CA.
Epshteyn is a regular contestant in endurance sports events, having participated in dozens of marathons, bike races and Ironman triathlons. He is also an adventure travel enthusiast who has climbed mountains on five continents. Epshteyn's enthusiasm for health and fitness permeates Coherent Solutions, where staff members have teamed up to participate in Twin Cities Marathons and the 2012 Tough Mudder obstacle course race. Recently, Coherent employees were featured in a Star Tribune article about "sweatworking" – a trend toward networking with colleagues or clients at the gym.
Coherent Solutions' sponsorship of CAF is a natural outgrowth of the company's commitment to good health and exercise. Epshteyn became aware of challenged athletes as he noticed competitors like a one-armed swimmer/rider/runner during a triathlon. Another time he found himself keeping pace with a woman running on a prosthetic leg during a marathon. Epshteyn's admiration for these athletes found an outlet when he discovered CAF. He will be one of 100 riders who commit to raise a minimum of $10,000 for the Dodge Million Dollar Challenge. In 2011, thirteen challenged athletes also participated in the race using prosthetic legs, hand cycles or sighted guides.
About CAF
The Challenged Athletes Foundation's mission is, "To provide opportunities and support to people with physical disabilities so they can pursue active lifestyles through physical fitness and competitive athletics . . . " CAF is unique in that it works with individual athletes to help them get the equipment or training they need to compete. The item most requested by CAF grantees are sport wheel chairs that cost between $1800 and $2500. High-tech running prosthetics for amputees cost upwards of $10,000. To date, CAF has issued almost 7,000 grants for athletic equipment and specialized training grants to aspiring athletes.
Among the athletes helped by CAF are New Brighton, Minnesota's Mark Braun who competed in mainstream track and field events at Irondale High School in a wheelchair, and who took home two gold medals from the 2012 Junior Olympics. He was the subject of a WCCO-TV special report in May of this year.
About Coherent Solutions
Since 1995, Coherent Solutions has helped clients reduce software development and maintenance costs and bring products and complex applications to market faster. With experienced teams in the U.S. and Eastern Europe, the company's model yields superior results as it combines expertise in commercial grade software development, a proven global delivery model, and a passionate commitment to client success. For more information on Coherent Solutions' technology solutions and outsourcing capabilities, please visit our website at: http://www.coherentsolutions.com.