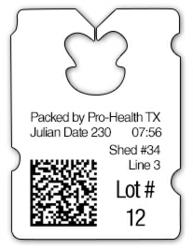 By adding the data matrix codes to the Kwik Loks, we're showing customers the personal touch we put into all of our fresh, healthy potatoes.
Dallas, Texas (PRWEB) September 10, 2012
Pro-Health is taking their commitment to healthy potatoes and sustainability one step further, bringing traceability to the forefront of the company's vision.
Starting this month, customers will start seeing new data matrix codes on the Kwik Lok closures for Pro-Health Russets – innovation that offers unique insight into each product's story.
Simply by scanning the Kwik Lok's data matrix code with a smartphone, customers are taken to a landing page on Pro-Health.com that shows the exact field their potatoes were grown in. Each page includes the field's specific location, latitude and longitude along with information about each farm.
This innovative technology, similar to a barcode or QR code, helps customers better understand Pro-Health's dedication to not only providing first rate produce, but more importantly providing 100% traceability.
"We go to great lengths to maintain the integrity of our products, from our fields to homes all across the country," said Pro-Health President and CEO Brandon Larsen.
"By adding the data matrix codes to the Kwik Loks, we're showing customers the personal touch we put into all of our fresh, healthy potatoes."