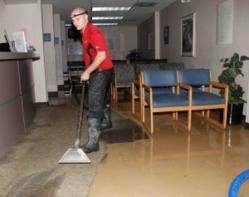 We are prepared for Hurricane Isaac and any water problems it throws our customers way.
St. Louis, MO (PRWEB) September 02, 2012
As Hurricane Isaac moves into the Midwest, it appears to set its sights on St. Louis. This creates a strong potential for heavy rain – together with flooded basements and leaky roofs. At Woodard Cleaning & Restoration, the Midwest's largest independent restoration company, we often field calls from homeowners wondering if they can address wet carpets and flooded basements on their own, or if they need professional assistance in water removal.
Woodard's customer service staff is always happy to help answer these questions, usually starting the conversation by explaining that run-off ground water is classified as, "grossly unsanitary" in the restoration industry, as it has many organisms and elements dissolved into it, including mud, feces, fertilizers, insecticides, household products, fuel, solvents, etc. Simply removing the water won't make a home safe for its inhabitants – it needs to be sanitized too.
We also discuss that depending on a number of circumstances, some homeowners are perfectly capable of handling small water intrusions, particularly if the area is small, and on a hard surface such as ceramic tile or concrete. If the water has traveled down a wall, or has wicked up a wall from the floor, you'll probably need professional assistance to determine the moisture content within the wallboard. Similarly, if the water has traveled inside a wall or ceiling, you'll need specialized moisture measuring meters to determine how wet the walls are, which dictates the best approach for drying.
It's important to note that mold spores are nearly everywhere, and once conditions are right, they can begin to grow quickly. To reduce the potential for microbial growth, the drying process needs to begin immediately.
Some homeowners are reluctant to call for assistance, preferring to try to handle the problem themselves. We have found in many of these situations, lack of sufficient drying later results in warped floors, mold, and/or structural rebuilding needs. All of these problems could have easily been avoided by working with a qualified restoration expert with the knowledge, tools and equipment needed to determine the scope of the problem, and to adequately dry and sanitize the water intrusion.
We hope that you come through the storms with no problems, but if you have a need, Woodard's restoration crews are standing by, ready to assist. You can reach us 24/7 at 314-227-3929, or visit our website at http://www.woodard247.com.