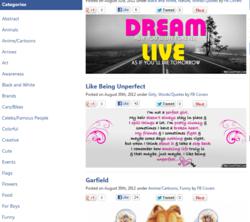 Mycoverpoint.com has announced availability of a wide variety of covers for Facebook timeline to choose from to embellish their timeline profiles.
(PRWEB) September 03, 2012
Mycoverpoint.com site has announced availability of a wide variety of covers for Facebook timeline to choose from to embellish their timeline profiles. The site recently added a feature by which users can make customized timeline covers with ease.
After the introduction of timeline feature by Facebook there has been an increasing demand for impressive timeline covers. People are now looking out for third party sites that offer exciting Facebook covers. Mycoverpoint.com has an extensive collection of Facebook timeline covers divided into categories like abstract, animals, cars, brands, events, quotes and a lot more. Mycoverpoint is one of the few sites out there that provide such an elaborate catalog of Facebook cover photos.
According to company sources,"More people are visiting our site to find interesting covers that will enhance the appeal of their Facebook profiles. We are more than happy to cater to their demands. We ensure freshness by continuously updating our catalogs. Hundreds of new and creative covers are added on a daily basis so as to add variety to our offerings. ". They added that a good cover can be used to express what users have in mind or more importantly give out a statement about them.
Mycoverpoint also claims that installing a new cover to timeline from the site is quite easy. A senior staff at Mycoverpoint explains, "First you will have to choose a cover from Mycoverpoint. After choosing the cover all you have to do is to click on the "Make my Facebook cover" button below the image of the cover. You will be asked to log in to your Facebook account. Once you have completed that step you will be asked to go to the 'Mycoverpoint' app. Once you given permission for the app to modify your timeline cover, the chosen cover will be uploaded to your profile. All you have to do now is to select the cover from the photos and use it as your timeline cover."
Apart from the gigantic collection of custom covers, Mycoverpoint also hosts a wide range of user submitted covers. Most of such covers have attained tremendous popularity in Facebook. Cover submitted by users of Mycoverpoint.com is listed under "User submitted" section in the website.
Another major highlight of the website is that it allows users to create their own custom timeline cover. This feature also requires users to log in to their Facebook account and allow permission to the Mycoverpoint app. Users can click on 'Preview personal covers' and they will be directed to a log in page. The users can then log in to the account and render permission to the app. Once the permission has been rendered to the app, it will fetch photos from "Profile pictures" album. Users can follow up by selecting a template. One can also click on "Shuffle photos" to rearrange the photos. Once the editing of the cover is complete, users can click on "Make my cover" to use it as your timeline cover.
Mycoverpoint come across as a useful utility for people looking for quick and easy modification of timeline covers in facebook. Users can browse through the extensive collection of cover photos and find a suitable cover for their Facebook timeline from Mycoverpoint website.