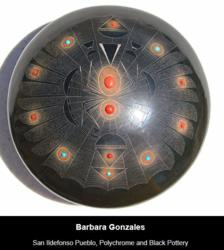 Santa Fe, NM (PRWEB) September 01, 2012
The Pojoaque River Art Tour is held annually for 2 days, the third weekend in September. This year the event falls on the 15th & 16th of the month. It is the only tri-cultural art tour, including San Ildefonso and Pojoaque Pueblo artists and the Anglo and Hispanic artists of Nambe, Jacona, Jaconita, and El Rancho, between the two Pueblos. Just 20 minutes north of Santa Fe, it is do-able in a day by bike or automobile. The event is featured on Santa Fe's premier on-line visitor guide SantaFe.com
The tour is just 20 min. north of Santa Fe, along S.R.502 & 503 and CR 84 through the Pojoaque Valley.
The tour begins at the newly renovated Casa del Rancho (the old El Rancho bar) at El Rancho Road and County Road 84 with a group of area artists, who live outside the map parameters, including painter George Toya of Nambe and Jemez Pueblo, and Caren Gala, jeweler, of Nambe Pueblo, and Karen Waters, photographer extraordinaire. Food, maps, and restrooms will be available there as well. Seniors of the Pojoaque Valley will sell crafts and baked goods at the El Rancho Community Center, directly west of Casa Del Rancho on County Road 84.
West along C.R. 84 will take attendees to San Ildefonso and the work of Barbara Gonzales, a direct descendant of Maria Martinez. Doubling back and crossing the Pojoaque River leads to Jeff Smith, master smith, and more artists. About the middle of 84, are tour founders and creatives, William Preston, sumi painter, Marianne Hornbuckle, abstract painter and sculptor, and jeweler Karen Luther. Glass artist David Shanfeld shows at Lucy Lyon's glass studio on the corner of 84, and 101E. Local wildman painter T C Williams is just beyond the corner, to the east and further along is William Garcia, painter and tinsmith. Crossing 285 into Nambe brings tour attendees to Estrellas del Norte Vineyard, where a group of Nambe artists, painters and sculptors share space, and where wine tastings may also be enjoyed.
This late summer journey through Pojoaque's inspired ambience, known as the Pojoaque Valley Art Tour, can still be navigated in a single day. Art-watchers attending the tour will be rewarded with a wide array of paint and print styles and media, including: contemporary and traditional oil and acrylic paintings, mixed media, assemblage, monotypes, Sumi-e, watercolor, egg tempera, gouache and pastel. Artists and artisans will also unveil original works in photography, jewelry, sculpture, both bronze and glass, ironwork, mosaics, wood turning, glass, both blown and cast, weaving, and ceramics. Some will be involved in works-in-progress and provide demonstrations.
Tour maps are available at Santa Fe hotels and B & B's, and posters picturing representative work shown at each studio can be found at the Casa del Rancho (off Hwy 502), opposite the El Rancho Community Center and ARTISAN'S ART EXPO at Buffalo Thunder Resort in the registration area, and the Estrella del Norte Winery, or follow the yellow and black highway signs and obtain maps at artists' studios. Frito Pies, tamales, burritos, tacos & refreshments will be sold at Casa del Rancho.
Interested attendees are encourage to download a map and preview artists and artwork at http://www.pojoaqueriverarttour.com .
Contact Information:
Marianne Hornbuckle – (505) 455-3496
E-mail: mhornbuck (at) gmail (dot) com
About SantaFe.com:
SantaFe.com provides locals and visitors to Santa Fe alike the most current interactive platform for events, music, arts, business, dining and lifestyle. SantaFe.com is a division of Hutton Broadcasting, located at 2502 C. Camino Entrada, Santa Fe, NM 87507
Contact Information:
Scott Hutton
SantaFe.com / Hutton Broadcasting
http://www.santafe.com
(505) 471-1067 (Media inquiries only, please)