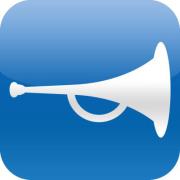 The new API takes our ad network to the next level, increasing speed to market and monetization opportunities for developers, publishers and advertisers. Nina Sodhi CEO BluTrumpet
New York, New York (PRWEB) September 04, 2012
Top-quality mobile ad network Blu Trumpet is pleased to announce the release of their inaugural API for its popular app-recommendation wall. The API will fuel faster app deployments, enabling developers to unlock the Blu Trumpet monetization proposition that delivers an effective 15% click-through rate, while keeping their apps simple and robust. The release means that developers can now side step the need to integrate an SDK, and instead access an API to call directly to the Blu Trumpet servers. The API empowers developers with increased control over the presentation of the app recommendations, as well as the flexibility to create a custom look that aligns with their respective brands.
Blu Trumpet CEO Nina Sodhi commented: "The new API takes our ad network to the next level, increasing speed to market and monetization opportunities for developers, publishers and advertisers. Over the past year we have seen extraordinary response to the app recommendation wall. Mobile users are becoming increasingly sophisticated, and publishers need solutions that drive discovery and monetization with ease and elegance." The release marks a new phase of growth for Blu Trumpet.
As a mark of appreciation for the developers who partner with Blu Trumpet for this new phase, the company is offering a pair of NFL TICKETS for the first developer who deploys the API before September 15th, 2012. For full details and to enter the contest, email info(at)blutrumpet(dot)com.
About Blu Trumpet
Blu Trumpet is an effective app discovery wall that lets advertisers reach millions of devices with clean, user-friendly ads. Through a combination of sophisticated design and discoverability, Blu Trumpet provides publishers a non-intrusive app and ad discovery tool that users enjoy, an alternative to banners, and a more creative way to monetize any app. Headquartered in New York City, Blu Trumpet was incubated at Hatch Labs in January of 2011. To see our website, please visit http://www.blutrumpet.com
About Hatch Labs
Hatch Labs is an entrepreneurial sandbox building advanced mobile products. With the investment and resources from IAC and Xtreme Labs, Hatch start-up teams rapidly prototype new applications and services to best serve the evolving world of mobile. To see the businesses we have already hatched, please visit http://www.hatchlabs.com.
Contact Information:
Nikke Slight
nikke(at)app-promo(dot)com
(917) 971-7169