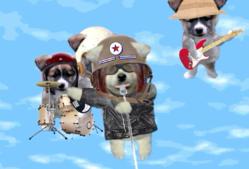 Los Angeles, CA (PRWEB) September 04, 2012
Passmorelab, the San Diego-based 3D production and post studio, has again teamed up with chart-topping indie-punk-rock outfit Osaka Popstar to announce the release of the band's INSECTS music video in stereoscopic 3D. The song was written by the Kids ofWidney High, a music group composed of disabled students from the special education J.P. Widney High School in Los Angeles.
The INSECTS music video is a product of producer John Cafiero (Osaka Popstar), and British cult animator Joel Veitch, the latter who's garnered a devoted global following with his "Rather Good" videos. The cartoonish, yet photorealistic animated music video, consists of a militia of punk rock puppies armed with guitars and walls of amplifiers.
This fun, wild multimedia experience, and the pop culture clash embodied within it, are just another example of the vision of Osaka Pop star creator and frontman John Cafiero and his revolving backing band of punk-rock legends-which has included members of the Misfits, the Ramones, Black Flag, and more. With the recent growth of 3D screening platforms-- theaters, television, mobile devices-- Passmorelab has emerged as an industry leader in 3D music video post production. This is the second time Osaka Popstar and Passmorelab have joined forces. Last year, Passmorelab provided 3D for the band's Wicked World video, a product of Cafiero's collaboration with Japanese cult animator Mari-Chan.
Osaka Popstar's cover of INSECTS is a catchy upbeat punk-pop song that re-imagines the version originally recorded by The Kids of Widney High ("KOWH") a Los Angeles based school for mentally and physically challenged children taught by musician Michael Monagan. "Our 3D production style works well for music videos and we enjoyed working on the Wicked World project with Osaka Popstar. We saw INSECTS as a wonderful opportunity to jointly promote the incredible special education program at J.P. Widney High School," said Greg Passmore, President of Passmorelab.
Such notable musicians as Smokey Robinson, Jackson Browne, Marilyn Manson and the Beastie Boys' Adam Horowitz have all cited themselves as fans of the KOWH. The band has released several albums, a comic book and are chronicled in the feature-length rockumentary Act Your Age: The Kids of Widney High. The KOWH have developed a cult following of their own-one which includes singer/producer John Cafiero (aka Osaka Popstar), and Passmorelab of course."We first learned of Michael Monagan's work with the KOWH through OP's cover of Insects. Since then, many of us here at Passmorelab have become big fans of the KOWH and we were all excited to be able to work on a project that wiII benefit the musical education program at Widney High," said James Humann of Passmorelab.
Cafiero adds: "It's genuinely satisfying to see Osaka Popstar's cover of INSECTS turn new audiences on to KOWH and their work. I've been a longtime fan, so it was great fun covering the song with a different sonic approach. When we charted on alternative radio with the single, it was like a personal victory. I'm a huge aficionado of what's commonly known as "outsider art" and from my perspective, outsiders are insiders. That's been a punk credo since the initial movement of the 70's. We brought something to a wider audience-in a punk rock Trojan horse-that might not have been given a chance by some otherwise. Many people were turned on to something new without even realizing it initially. When they delve further and learn the back-story, they appreciate it even more, and I find that fun and inspiring."
Both INSECTS 3D and WICKED WORLD 3D are available for distribution through Passmorelab on multiple 3D platforms including mobile devices, video on demand, television broadcast and theatrical. All of the producer's net proceeds from the distribution of INSECTS 3D will benefit J.P. Widney High School.
About Osaka Popstar
Osaka Popstar is the pop-punk multimedia music and art project led by singer/producer John Cafiero, long-time Misfits & Ramones collaborator and platinum selling film and video director. The critically acclaimed debut album "Osaka Popstar and the American Legends of Punk" features frontman Cafiero with a revolving Iineup of punk-rock legends as his backing band including members of the Misfits, the Ramones, Black Flag, the Voidoids and more.
CONTACT:
http://osakapopstar.com
http://facebook.com/osakapopstar
http://twitter.com/osakapopstar
About Kids ofWhidney High
The Kids of Widney High are a group of students from Widney High School, a special education high school in Los Angeles, who write and perform original songs. The group started in 1988 as a song writing class and changes as the students come and go from Widney. The students perform in the L.A. area with a band consisting of Vince Licassi-guitar, Judy Rudin-harmonica, Tony Bollas-drums, Spero Anthony-bass, and Michael Monagan-guitar
CONTACT:
http://kidsofwidneyhigh.com
About Passmorelab
Passmorelab is San Diego-based stereoscopic 3D studio that specializes in 2D-to-3D conversion, native 3D production and 3D distribution. The company's California facilities include a fuII 3D production studio, post production suites and optical and software development labs. Passmorelab's state-of-the-art 3D conversion technology has been used on many major Hollywood films and, as an independent film production company, Passmorelab produces its own 3D films including science and nature shorts, broadcast television programming, and documentary and feature films. The company also focuses on 3D production for music videos and has worked with several high profile artists including Link in Park, Slash, B.o.B. and Death Cab for Cutie. Passmorelab operates a separate distribution/sales office in San Diego that specializes in the Iicensing of 3D content to independent theaters, science centers, museums, pIanetariums, 3D television broadcasts and 3D mobile devices.
CONTACT:
http://www.passmorelab.com/
http://www.facebook.com/passmore.lab
Passmorelab
4901 Morena Blvd., Bldg. 600
San Diego, CA 92117
Michael Williams, Director of Content and Distribution
(562) 533-0453 -- sales(at)passmorelab(dot)com