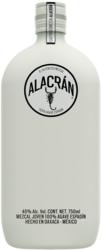 New York, NY (PRWEB) September 04, 2012
Autentico Tequila Alacran, the up and coming Tequila company, releases their Mezcal product in the marketplace. Autentico Mezcal Alacran will debut at the Hotel Americano in New York City on September 7th, 2012. This event is poised to be an exciting affair for the company as Autentico Tequila Alacran plans to unveil their highly anticipated new Mezcal brand for the very first time.
The Autentico Mezcal Alacran event will take place at the hottest hotel in New York City, Hotel Americano, on September 7th, 2012 from 7pm-11pm. The VIP invite-only affair will be attended by top-tier media to the who's who of New York including the hottest nightlife personalities and tastemakers, influential trendsetters and the fashion elite.
"We're honored to introduce our new Autentico Mezcal Alacran brand at this noteworthy event held at the Hotel Americano. We're excited to launch our Mezcal brand and are looking forward to consumers who will appreciate the alluring taste and enjoy it as much as we do," states Ernesto Ibarra Henkel, CEO of Autentico Tequila Alacran.
Autentico Mezcal Alacran is pure, distinct and stands out. It's packaged in a glass bottle with white matte soft-touch coating that is sleek looking. Autentico Mezcal Alacran, rich with medicinal and tonic qualities, has a sophisticated, powerful smoky flavor. It is targeted towards Mezcal lovers and tequila drinkers alike who crave a fresh intriguing taste compared to other competitors in the marketplace. After tasting Authentic Mezcal Alacran, it will surely become your soul mate - drink of choice.
Autentico Mezcal Alacran brand comes from the company, Autentico Tequila Alacran that is committed to excellence and producing great tasting, high quality products. The brand company founded in 2010 in Mexico City has grown at a rapid pace and its products are sold at fine restaurants, hotels, bars and the most exclusive and sexiest lounges in NY including LAVO, Provocateur, The Darby, Cipriani and in Miami, TX and abroad. Autentico Tequila Alacran has captured the attention of global trendsetters, media and a celebrity clientele. For more information on Autentico Tequila Alacran and its products, visit http://www.autenticoalacran.com and Facebook via facebook.com/AlacranNY and Twitter via twitter.com/AlacranNY.
For more information on Autentico Tequila Alacran and Autentico Mezcal Alacran or for press inquires and interviews, contact Tamara York of Tamara York Public Relations via email: tamara(at)tamarayorkpr(dot)com.
# # #