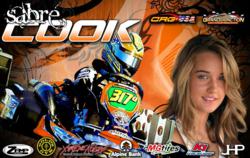 Starting at age 8, Sabre' Cook has wowed all those that follow in her "dust" tracks.
(PRWEB) September 01, 2012
Kart Racing is Not For the Faint-Hearted
While some of us remember go-karting as a kid, kart racing has it's history set in the 1960's when they first put motorcycle engines into standard downhill karts. Karts have been increasing in speed ever since and they now have the ability to reach speeds of over 130 miles per hour. Most people can't imagine driving that fast, but for these nationally recognized kart racers, it's a dream come true. Most kart racers begin racing around 7 or 8 years of age and continue to climb the charts if determined enough.
Grand Junction Motor Speedway's Legend in Her Own Time
Starting at age 8, Sabre' Cook has wowed all those that follow in her "dust" tracks. Growing up at Grand Junction Motor Speedway has given her the advantage she needs to achieve these accomplishments. She has been a Colorado State Champion for 6 years, and has won the TAG Junior USA World Champion twice. Above all that she has national and local corporate sponsors, and maintained 4.1 GPA throughout high school. She is currently a freshman at the Colorado School of Mines working toward a double engineering degree. No doubt the race this weekend will turn many heads.
Spectators Encouraged to View the Championship
This season's finale' event will be exciting to say the least. Every day holds new promise for each of the drivers. With first place still up for grabs, the drivers must bring their very best, and you can bet they are up to the challenge. After the racing adrenaline has peaked, a banquet will be held for all who wish to attend. There will be a buffet-style dinner, door-prizes for those in attendance, and the championship awards will be given. Admission for spectators this weekend is free! If you would like to purchase banquet tickets visit the
Engine revving, tires screeching, and a heart-pounding rush will surely be waiting for you at this weekend's racing championship. The Grand Junction Motor Speedway has been in business for a decade now and welcomes new participants to the game. The track is open from 9:00am-dark 7 days a week. The public is always welcome to arrive and drive using rental karts available at the track. Or, you can even bring your own vehicle and race on their track. Grand Junction Motor Speedway is open for corporate events, company parties, team building activities and more. The Grand Junction Motor Speedway's Facebook page is frequently updated with new information.