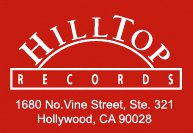 HillTop [is] the label that records America's songs and the company that truly is all about the songwriter.
Los Angeles, CA (PRWEB) September 02, 2012
For years, Hollywood-based music production company HillTop Records has been recording and promoting music by America's songwriters. HillTop's staff of professional arrangers and musicians have won awards and recorded alongside world-famous artists; they now lend their expertise to America's up-and-coming songwriters. In addition to arranging, recording, packaging and promoting America's music, HillTop Records is constantly looking for new ways to promote their songwriters under contract. These ways include the Annual HillTop Records Online Music Festival for Songwriters, Internet radio stations, and the company's latest venture—music video production.
HillTop Records produces and celebrates all kinds of music, from pop and rock to country and jazz. The company also has a thriving gospel division, and this is the genre showcased in its first-ever music video. The video is for the inspirational song "Love Him!" by Sue Marten. The song was produced by HillTop, and the video was created to emphasis its beautiful, heartfelt message: "God loves and we are called to love, love Him." Visitors can see the entire video on HillTop Records' website, and also on YouTube.
This new service offered by HillTop Records is indicative of the company's tech-savvy, forward-thinking nature. These days, it is vital for songwriters and artists looking to establish themselves in the public eye to take advantage of all available creative outlets—including music videos. The medium is an incredibly powerful tool, and studies show that YouTube's audience is now larger than ever before—and rapidly growing.
HillTop Records is always on the lookout for new avenues for its songwriters. The company maintains a strong online presence, and songwriters under contract benefit from having a Unique Songwriter Page that can be used for promotional purposes.
For this and other reasons, songwriter Steve Euto-Mullis said of his time with the company: "HillTop [is] the label that records America's songs and the company that truly is all about the songwriter."
Anyone interested in learning more about what HillTop Records does, you can visit the company's official website (http://www.hilltoprecords.com) to read songwriter bios, download songs—and, of course, see the company's first-ever music video live on the homepage. Music-lovers can also follow on Twitter @HillTopRecords, and read updates and letters from other HillTop Records songwriters at http://hilltoprecords.blogspot.com. The blog also publishes articles on upcoming events, informative guides and how-to's, explanations of complicated business matters, and current trends within the music industry.