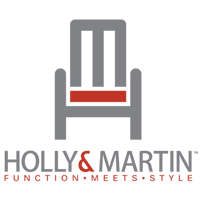 Fresh, innovative, and exciting is what the new brand of Holly & Martin™ products represent.
Torrance, CA (PRWEB) September 01, 2012
Holly & Martin™ is an exciting new brand of furniture, fireplaces, and home decor available from Best Priced Furniture. Today's consumers are looking for stylish furniture that is also functional and affordable. Designers at Holly & Martin™ stay in touch with consumers through social media, interacting and monitoring what people are saying about fashion, color, and trends. The input from consumers is taken very serious by the product development team and the result is an innovative line of furniture.
One of the most functional categories of Holly & Martin™ is represented by their electric fireplace line. The electric fireplaces come in a variety of styles and finishes that blend well into any home type. The Holly & Martin™ Akita Electric fireplace is modern in appearance, functional with multimedia storage, provides heat, and affordable priced.
Holly & Martin™ products are designed to be right on target with the needs of today's furniture shoppers that demand function and style at the right price. The lineup includes electric fireplaces, TV stands, jewelry armoires, storage, desks, casual dining, and many other categories.
Best Priced Furniture, an online furniture retailer since 2004, is excited to offer the new Holly & Martin™ line. Best Priced Furniture carries a wide variety of furniture ranging from bedroom to bar stools and delivers furniture anywhere in the continental U.S.A. Furniture from Holly & Martin™ is ready for ordering this Labor Day weekend.