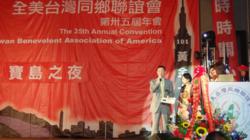 We are excited to endorse TBAA in their efforts, and will strive to do our part by providing communication bridges for our Taiwanese 'tongshiang' through superior telecommunication solutions
San Jose, CA (PRWEB) September 01, 2012
CHT Global, the US subsidiary of Taiwan's largest telecommunications company Chunghwa Telecom, was a major sponsor at this year's Annual Convention of the Taiwan Benevolent Association of America (TBAA). This conference, the 35th of its kind since the organization's inception, seeks to strengthen the ties of oversea Taiwanese with their homeland as well as build up community relationships between Taiwanese members with each other and the United States. As a global connectivity provider with its roots originating in Taiwan, CHT Global has long advocated for causes such as these in order to further communication & beneficial service exchanges among the local Taiwanese situated in the United States.
CHT Global supports a wide variety of services designed for customers ranging from large global enterprises and SMBs seeking to improve business operations with the latest networking and telecommunication technology such as Global MPLS-VPN. Enterprises utilizing the MPLS solution have benefited from greater network reliability due to CHT Global's superior QoS (Quality of Service) management and have also seen improvements to business operations through the ability to detect and thus resolve network issues in real-time via the CQM Advanced Network Monitoring system. In addition to its enterprise and small business offerings, CHT Global also provides global calling solutions to residential customers to stay in touch with friends and family in Taiwan, China, Singapore, Hong Kong, and other countries around the world.
CHT Global's President and CEO, Joe Yang, believes in the growing importance of mobility services and global connectivity for tomorrow's progress, as witnessed by market trends within the past few years alone. He hopes more and more businesses will embrace these challenges and work together to solve these issues just as CHT Global's mobile enabling Net2Communicate VoIP service gateway was brought about to meet these requirements for greater flexibility and affordable voice calling from anywhere in the world.
"We are excited to endorse TBAA in their efforts, and will strive to do our part by providing communication bridges for our Taiwanese 'tongshiang' through superior telecommunication solutions," said Mr. Yang. "Communication is more than just words and data transmitted, but it is about building relational bonds and fostering an environment for continual improvement and flourishing far into the future."
About Net2Communicate
Net2Communicate is part of the CHT Global's Small Business Toolkit which is specifically designed for small businesses, entrepreneurs, and traveling businessmen. Similarly to the Net2Mail Enterprise Email and Digital Fax services that are also found in the Small Business Toolkit, Net2Communicate utilizes the Internet to provide "anywhere and anytime" office solutions. Based upon VoIP (Voice over Internet Protocol) technologies, Net2Communicate uniquely solves and simplifies global and multi-location voice complexities.
About CHT Global
CHT Global (Chunghwa Telecom Global, Inc.) is a global telecommunication solutions provider. The wholly owned U.S. subsidiary of Taiwan's largest telecom, Chunghwa Telecom Co., LTD. (NYSE: CHT), CHT Global has and continues to provide numerous multinational enterprises and small businesses the highest quality in telecommunication solutions through its global backbone infrastructure, innovative products, and world-class service. For more information, please visit http://www.chtglobal.com.