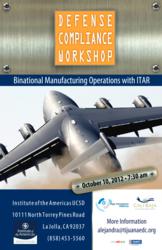 Tijuana, Mexico (PRWEB) September 03, 2012
For California, recent cuts to the US Defense budget could mean the loss of 31.000 jobs and a significant impact on the sales of local products, particularly aircraft equipment. US defense contractors are looking for ways to streamline efficiency and minimize costs without compromising jobs, while still complying with federal programs.
In preparation for sequestration, the Cali-Baja Bi-National Mega-Region is starting to work proactively by organizing an event that will pin-point potential alternatives that might minimize some of the effects on the local industry. As testimony to such benefits, CUBIC Defense will talk about how they have succeeded in the bi-national region.
The concept of Bi-National Manufacturing Operations emerges as an attractive option in maintaining competitiveness due to the fact that manufacturing in Mexico could represent potential savings of around fifty percent, and over 65 percent versus Europe.
Overall, the Baja California Aerospace Cluster has grown 16 percent in the past year, and is home to over 51 companies that represent half of the entirety of jobs this sector produces in all of Mexico. Baja California is home of leading companies such as Eaton, Zodiac, CST, Rockwell Collins, Honeywell, among others.
In addition to having the presence of such important companies, the State has also developed a strong local network of suppliers for the aerospace industry which offer high quality services and products that are compliant to all the regulations, such as, precision machining, anodizing, plating, interiors design, cables and harnesses.
During the workshop companies such as Eaton, Suntron and CST will showcase their experiences in compliance of ITAR regulations in two panels, "Supply Chain in an ITAR environment," and "Advantages of Bi-National Manufacturing Operations." The workshop will also include a keynote presentation, "An Insight into ITAR and its Tendencies" by an expert on export compliance.
For more information on the event click here
About Tijuana EDC: The Tijuana EDC is a nonprofit corporation dedicated to helping companies establish successful manufacturing operations in Mexico and to take advantage of the business opportunities of vertical integration, introducing qualified Mexican suppliers and facilitating access to new markets. For more information on how to take advantage of these opportunities contact the Tijuana EDC at contact(at)tijuanaedc.org or visit our website at http://www.tijuanaedc.org