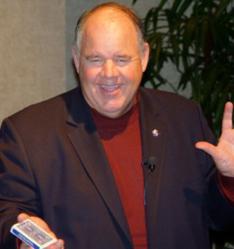 John gives organizations the tools to create a culture where people take action to work safely.
Galt, CA (PRWEB) September 05, 2012
John Drebinger, acclaimed international safety speaker, was named one of Safety's "Power 101" by ISHN, the leading publication in the safety and health industry, as reported by WEmarketwine. The Power 101, according to ISHN, "are the leaders of the environmental health and safety world." John has been delivering his dynamic presentations worldwide for the past 22 years and is known for injecting humor and passion to engage audiences to help people work safely. He is considered to be one of the most successful and traveled safety motivational speakers in the nation.
Drebinger developed the program, "Would You Watch Out For My Safety"™, which teaches people a comfortable way in which they can point out hazards and unsafe behaviors to others. His strategies create a culture where people take action to protect themselves as well as those around them. Clients have reported conditions and behaviors that had gone uncommented on for years are suddenly pointed out and corrected thus making for a safer workplace. "By implementing the techniques that John teaches into our plant safety training, everyone at our plant has said that we now have the best safety training program they have ever seen" said Ted Gaziemski of Solvay Advanced Polymers.
John is in the company of known leaders in the safety field who share the vision of an injury-free work environment where everyone can have a fulfilling career – safely. These safety professionals are dedicated to the health and safety of everyone they touch whether in high-risk or office work environments including all employee groups up to the executive level. John is known for collaborating with colleagues to invent new strategies people can use to effectively watch out for each other's safety which he incorporates into his "Would You Watch Out For My Safety"™ program.
Some of Drebinger's clients include NASA, ExxonMobil, the U.S. Department of Defense-serving all branches of the U.S. Military, Round Mountain Gold Corporation, Maersk, General Motors, Con Edison, and many more Fortune 500 companies.
About John Drebinger:
For more than 20 years, John W. Drebinger, Jr. C.Ht. CSP (Certified Professional Speaker) has been recognized as an expert safety speaker. Drebinger has taught thousands how to watch out for themselves and others and major corporations recognize that his techniques have given their employees safety skills that achieve results. John's safety articles have been published by several trade publications including Compliance, Professional Safety, Industrial Safety and Hygiene News, ISHN, and The Leader (OSHA's VPPPA magazine).
Dedicated to constant improvement, Drebinger is a member of the National Speakers Association and has achieved their highest earned designation, CSP (Certified Speaking Professional). John is a professional member of the American Society of Safety Engineers. Drebinger is also a talented professional magician and member of the Academy of Magical Arts at Hollywood's Magic Castle. John uses his magic skills to demonstrate safety messages in a unique and memorable way that resonates with all levels of the organization.
Additional information regarding John Drebinger may be found at http://www.drebinger.com, john(at)drebinger(dot)com, or 209-745-9419.