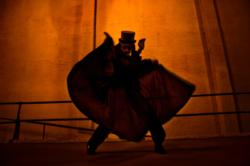 Caligari is an intense performance, seamlessly weaving together Madness, Love and Murder at the turn of the Century!
Hollywood, CA (PRWEB) September 01, 2012
The Cabinet of Dr. Caligari is an innovative theatrical production, combining the art of silent films with dance, acrobatics and vivid projections to retell the surrealistic masterpiece by Robert Wiene. Caligari is a dance through wicked carnivals and intrigues. The Astra Dance Company has created a world of strange characters and shadowy figures to explore.
This is an intense performance, seamlessly woven together with a suspenseful tale of science, madness, love and murder at the turn of the century.
The orginal film, "Caligari" was made in 1920 Germany and is considered to be one of the foundation pieces of classic film. It is the story of the carnival hypnotist, Dr. Caligari, his future-telling somnambulist, Cesare and the frightful events transpiring in a twisted world of strange characters. The Astra Dance Company has taken this legendary work and brought it to life on the stage with actors, dancers and acrobats directed by Sasha Travis, a unique musical score by Regan Remy and choreography by Nichelle Bane. Together they have built a great multimedia performance.
The experience of Caligari begins when you enter the door of the El Portal Theatre where performers wait in the lobbies amongst an exhibit of art from the show.
The Cabinet of Dr. Caligari runs from September 7th to October 7th 2012
Live at the El Portal Theatre in North Hollywood, CA Ticket prices $20.00 - $40.00
El Portal Ticket Office : 818-508-4200