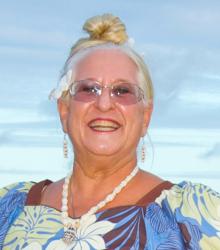 I became a Wedding Officiant when I saw the need for an experienced, sensitive individual to conduct Jewish, interfaith and spiritual ceremonies on Kauai.
Lihue, HI (PRWEB) September 02, 2012
Hawaiian Style Weddings, a full-service wedding planner and coordinator, produces Destination Weddings on Oahu, Maui, Kauai and on the Big Island of Hawaii. With over 200 wedding service providers and vendors, Hawaiian Style offers custom designed teams that include the minister or officiate of choice with the wedding tradition of choice. "We have requests for combinations of faiths and traditions," reported Jana Rothenberg, manager at Hawaiian Style Weddings. "Couples blend their cultural wedding vows in customized combinations as well as adding Hawaiian components into their ceremonies."
Hawaiian Style Weddings is happy to announce the addition of Rav Dale Rosenfeld, a seasoned wedding officiant. "Rav", as she notes it, is a combination or Rev. and Rabbi. She appreciates the merging of the titles. "Rav Dale" has been active as a leader in the Jewish Community for nearly 50 years and was formally recognized as an officiant in 2009. She is licensed through the State of Hawaii and has been offering Interfaith, Spiritual and traditional Jewish Marriage and Civil Union Ceremonies on Kauai for 5 years. Her background includes theater, psychology, and teaching in both traditional schools and outdoor settings. She added, "I became a Wedding Officiant when I saw the need for an experienced, sensitive individual to conduct Jewish, interfaith and spiritual ceremonies on Kauai." She fulfils a needed niche and is delighted to be included in Hawaiian Style Wedding's impressive Officiants' listing.
Interfaith and spiritual wedding ceremonies and civil unions are becoming more popular, especially among second marriages and couples that are bridging multi-cultural families and traditions together.
Some well known interfaith marriages include Chelsea Clinton, who was raised Methodist, and Marc Mezvinsky, Jewish. The Washington Post reported in 2009, "More than a quarter of married Americans have a spouse of a different faith, according to a 2008 survey by the Pew Forum on Religion and Public Life. That statistic climbs to 37 percent when Protestants from different denominations are included." Adding in Hawaiian wedding traditions both religious and non-religious with beach weddings makes for eclectic, culturally-rich wedding experiences.
Rav Dale works with each couple to customize the ceremony with additional poetry readings, personal stories or meaningful exchanges. Her Jewish ceremonies include Hebrew prayers, the seven blessings and the breaking of the glass. She even works with a Kauai glass blower to make a unique vessel to contain the shards of glass for safe keeping. Adding in Hawaiian tradition, she opens each ceremony with blowing of the conch shell. While the State of Hawaii does not allow chairs or structures - such as bamboo or a traditional chuppah - on the beach, Hawaiian Style suggests private or suitable venues when structures are requested.
Rav Dale said that "Blending families can also include symbolic blending ceremonies. Many contemporary beach weddings now include a 'Sand Ceremony'. The children from previous marriages with the newly married couple pour colored sand from individual containers into a Unity or Oneness canister. It is symbolic of the blending and blessings new family with the new family tradition".
Hawaiian Style Weddings works with each couple so that their cultural backgrounds and wedding wishes are brought together with a customized team of photographers, videographers, musicians and, of course, the most appropriate Officiant. Rothenberg stated, "Hawaii offers some of the most beautiful beaches in the world for families to experience the blending of cultures and of faiths creating new traditions. We offer compassionate and experienced Officiants who listen and provide the most meaningful wedding possible."