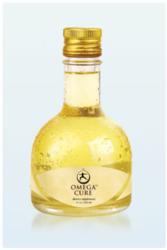 "With the results of this study, we can see why our oil makes such a big difference."
Venice, FL (PRWEB) September 05, 2012
Omega3 Innovations recently learned that their Omega Cure liquid fish oil ranked the freshest in a Norwegian study that examined more than 100 brands of omega-3 fish oil products.
The physician-directed, Venice-based health-food company was excited to hear of the high ranking in a study published in the Norwegian health magazine, Vitenskap & Fornuft ("Science & Reason"), according to co-founder Dr. Bo Martinsen.
"We are extremely proud of the results," Martinsen said, adding that the findings showed Omega Cure's freshness was attributed to it having one-hundredth the oxidation levels of other leading omega-3 products.
The study examined more than 100 brands of omega-3 marine-sourced products, including capsules and liquid fish oils. Martinsen said that more than half of the products initially selected were excluded because they contained too many added ingredients to provide an accurate oxidation value, and 95 percent of the remaining 56 products didn't meet industry standards.
Published in May, the report – which displayed a photograph of a bottle of Omega Cure – comes on the heels of other recently-released research that suggests consuming fresh fish oil is far more beneficial than consuming older or even rancid fish oils, and that taking the latter may even be harmful.
The paper's author – Johnny Laupsa-Borge – explained the findings in Vitenskap & Fornuft, adding that while no long-term studies analyzing the effects of consuming rancid marine oil have been done, animals that consumed large doses of rancid plant oil in other studies showed an increase in liver fat and cell death in the animals' stomachs.
"Many of our customers say they have experienced significantly more health benefits with Omega Cure than with their previous omega-3 supplements," Martinsen said. "And, with the results of this study, we can see why our oil makes such a big difference."
The oil used in Omega3 Innovations' products – including the high-fiber Omega Cookie and the Omega Passion chocolate truffle – is fished off the coast of Norway and purified in small batches under cold temperatures with limited exposure to air and light, Martinsen said.
"As soon as it reaches our Venice production facility, it is bottled and shipped directly to the consumer, providing a minimal turn-around time from fish date to the delivery," he explained.
Dr. Anne-Marie Chalmers, fellow co-founder of Omega3 Innovations, says the findings also may explain why omega-3 products' heart-healthy benefits recently have been scrutinized in other studies, leading researchers to speculate that those contradictory results could be because participants were given rancid omega-3 fish oil products.
"While more than 10,000 studies have already shown that omega-3 can provide a multitude of health benefits, there is still much more to learn," she says. "But we do know, you can't go wrong with taking a super-fresh fish oil that is as close to Mother Nature as you can get."
About Omega3 Innovations:
Founded by Bo Martinsen, M.D., and Anne-Marie Chalmers, M.D. – two physicians who have worked with omega-3 fish oil for more than 16 years – the company also offers several varieties of Omega Cookies, as well as Omega Cure supplements. Each cookie contains seven capsules worth of omega-3 fish oil, five grams of fiber, 200% of the daily value of vitamin D and 35% of calcium. The company was an innovation winner at the 2010 annual Economic Development Corporation of Sarasota County's Hall of Fame awards and was nominated in this year's young business category. Omega3 Innovations is the first to create a bakery product that contains an effective dose of omega-3 fish oil. For more information, visit http://www.omega3innovations.com.
For more information about this release, please contact:
Anne-Marie Chalmers, M.D., Omega3 Innovations, 941-485-4400